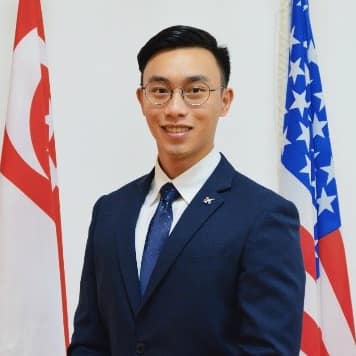 Sean Ng See Keat
President, Student Government Association - Asia Campus
About Sean
Sean Ng is the current President of Embry-Riddle Asia's 4th Student Government Association (SGA) for AY 2019/2020. Elected in July 2019, he is responsible for leading the SGA, organizing activities for the student body, as well as ensuring that the overall welfare of Embry-Riddle students in Singapore is well taken care of.
The SGA was formed to represent and serve all students attending Embry-Riddle Asia. The vision of the SGA is to establish Embry-Riddle Asia in the region as a top-notch university that provides quality aviation education as well as an unforgettable college experience. Sean hopes that during his term in the SGA, he will be able to engage every Eagle within the Embry-Riddle Asia family, local or international students, through innovative ways such as activities and the latest educational technologies.
Sean is a senior pursuing a Bachelor of Science in Aeronautics with a minor in Aviation Maintenance Operations. He graduated from Ngee Ann Polytechnic in 2016, with a Diploma in Aerospace Electronics with a minor in Business Management.
In December 2018, Sean represented Embry-Riddle Asia at the Model ICAO Forum, in Shenzhen, China. A side event of the Second ICAO NGAP Global Summit (NGAP/2), the Model ICAO Forum was aimed at raising awareness on issues pertaining to civil aviation, and at inspiring a new generation of aviation professionals. His team was awarded by the Secretary-General of ICAO, for presenting an outstanding solution to a case study involving a safety assessment for Unmanned Aircraft Systems (UAS) operations.
Prior to joining Embry-Riddle Asia, Sean completed his two years of military service as a 3rd Sergeant in the Singapore Armed Forces (SAF), 1st Commando Battalion, 5th Company, 1st Detachment. In June 2018, Sean played a key role in helping his battalion clinch the SAF's Best Combat Unit competition for the 15th consecutive year, adding on to a total of 32 unprecedented wins since the introduction of the competition in 1969. He has also completed nine combat airborne jumps in Singapore, Taiwan, and Australia.
An aviation enthusiast, Sean hopes to become a commercial pilot in Singapore Airlines upon graduation. He is an active member of the Virtual Flying Club in Embry-Riddle Asia. He enjoys athletics and other fitness training during his free time as well.