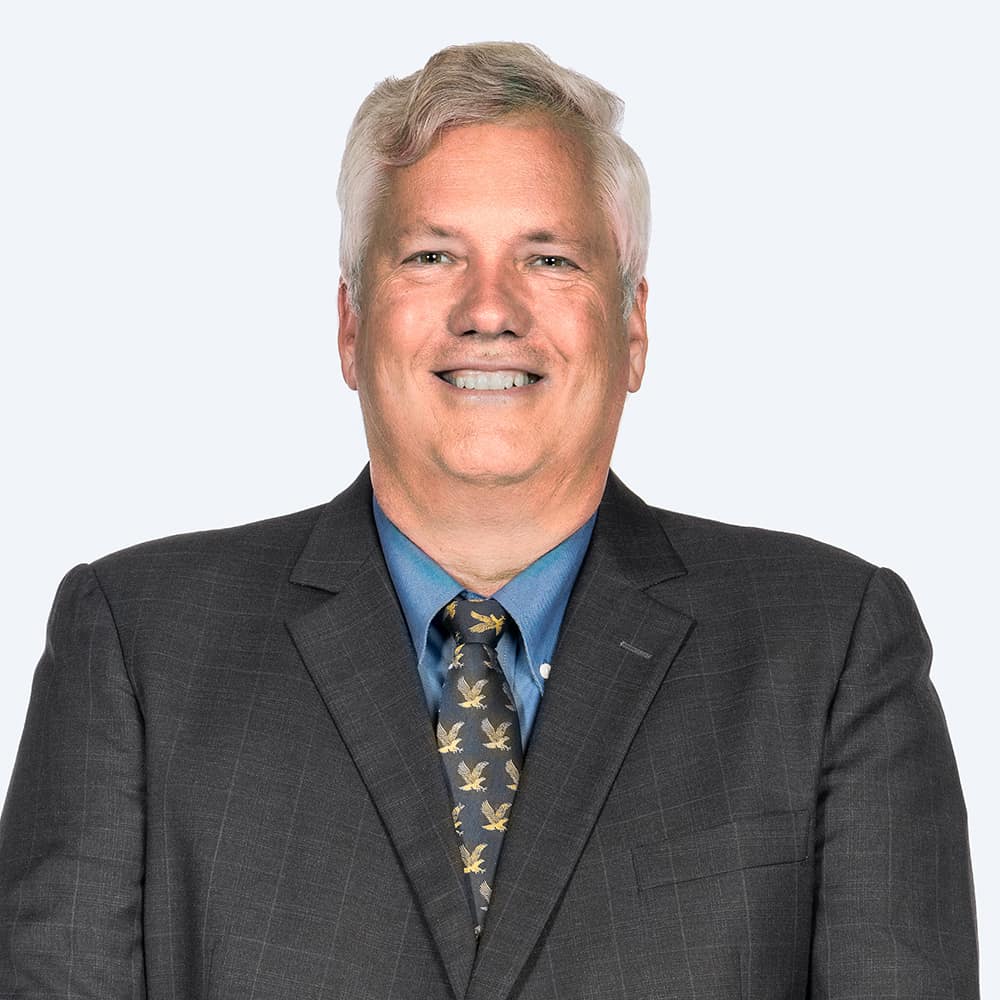 David Robertson
Member since 2009
Chairman, Flight Safety & Education Committee
Student Life Committee
Career Highlights
A professional pilot for more than 40 years, Robertson's experience has ranged from gliders, air ambulances, scenic tours and on-demand charters to aerial applications, firefighting and 26 years as a jet airliner captain. He has held the positions of captain, instructor and check airman at four domestic and international airlines, with additional responsibilities in personnel, flight safety, federal safety and health compliance.
At Spirit Airlines, he was chief pilot, director of training and director of operations before becoming director of flight safety.
As the owners of the Robertson Racing team, Robertson and his wife, Andrea, now focus much of their time and energy into competing in some of the world's most prestigious sports car races.
Currently, Robertson is involved with the Federal Aviation Administration Flight Operational Quality Assurance (FOQA) Demonstration Project, which is collecting and analyzing flight data recordings to improve the safety of flight operations, air traffic control procedures and aircraft and airport design and maintenance.
He is a life member of the Aircraft Owners & Pilots Association and the Soaring Society of America. He is also an active member of the American Institute of Aeronautics and Astronautics, American Society of Safety Engineers, Classic Jet Aircraft Association, EAA Warbirds, Flight Safety Foundation and International Aerobatic Club.
Lifelong Passion
A self-described "airplane guy" since the age of five, Robertson spent many happy hours at the airport in Prescott, Arizona, where he raced gliders during his high school and college years in the 1970s. He later made stops as an air ambulance pilot for Native American tribes in northern Arizona.
"One day in 1978, Embry-Riddle showed up," he said. The university had purchased the campus of a Prescott-based college to add to its Daytona Beach (Florida) and Worldwide campuses. Robertson was so impressed with the school that he wished he had attended Embry-Riddle himself.
"Watching the Prescott Campus evolve, I noticed that whether the graduates were pilots like me, or engineers or whatever, most of them transitioned directly into their selected career field. I thought to myself, wow – Embry-Riddle is good for the kids, good for the town and good for the country."
Robertson's own engagement with Embry-Riddle began in the mid-1980s when he was a DC-9 captain for an airline in Texas, where he also assisted the company's hiring process. "One day I got a call from an Industry Advisory Board at Embry-Riddle, asking for advice on how to fill in some gaps in the curriculum to make the students even more employable," he said.
Among his suggestions was to add a safety minor. In the following years, Embry-Riddle launched several safety degree programs, including aerospace and occupational safety, occupational safety management, industrial psychology and safety, safety management and safety science.
In the 1990s, Robertson became more involved in the safety aspect of Embry-Riddle when he joined its Center for Aviation Safety Education (CASE). This group of aviation safety experts developed professional short courses in safety for Embry-Riddle. They also introduced safety knowledge and programs into the Embry-Riddle curriculum so the next generation of graduates would be better prepared for careers with the Federal Aviation Administration and National Transportation Safety Board.
Through Robertson's generous support, the Prescott Campus established the Robertson Safety Institute, a professional development, outreach and consulting organization with a strategic focus on aviation and industry safety. Also on campus is the Robertson Aircraft Crash Investigation Laboratory, where students conduct simulated, hands-on field investigations of reconstructed aircraft accident scenes.
As a natural outgrowth of his safety-focused contributions to the university, Robertson was elected to the Embry-Riddle Board of Trustees in 2009. He currently chairs the flight safety and education committee.
He has high praise for his fellow trustees. "The Board is composed of corporate leaders from a wide range of industries, airline vice presidents, a retired astronaut and several others with outstanding credentials," said Robertson, himself an accomplished racecar driver and pilot. "They are an amazing group of people, always willing to share their knowledge."
Embry-Riddle's close ties with the aerospace and aviation industry often lead to fruitful partnerships in applied-research projects that tackle real-world challenges, Robertson said. One such project resulted from a joint effort between Robertson and retired astronaut Nicole Stott ('87, DB). Together, they connected Embry-Riddle students and professors with Aquarius, the world's only active undersea research laboratory where astronaut training is conducted by the United States' National Aeronautics and Space Administration (NASA). Stott and Robertson developed Embry-Riddle projects that could be integrated with NASA's 19th Extreme Environment Mission Operations (NEEMO) event.
Students in aerospace engineering, mathematics, human factors and commercial space operations degree programs were able to see how a NASA training mission is run; giving them the hands-on experiences they need to complement their work on campus.
"We have faculty with industry experience who work together with motivated students to conduct in-house research using our advanced technology, doing so at a lower cost with great results," Robertson said. "Combine that with the unique opportunities like the NEEMO experience and we end up with graduates who are immediately ready for real-world challenges."
The STEM (Science, Technology, Engineering and Mathematics) Education Center at the Prescott Campus and the MicaPlex at the Embry-Riddle Research Park in Daytona Beach continue to advance industry research and create opportunities for students.
Robertson said that Embry-Riddle is the most optimistic place he has ever known. "I'm always talking with students who have a long list of things they want to do, whether it's launching a rocket into orbit or building a high-performance hybrid car or a thousand other things," he said. "They're passionate about both their short-term and long-term goals. I wish I could just bottle their enthusiasm and take it with me."
"I'm so proud of the university's growth and where it's going, both in terms of new buildings, labs, and degree programs," he said. "Going forward, it makes sense to me to expand into areas that are adjacent to what we're already doing well, so there's a smooth transfer of accrued knowledge. Just keep the growth slow and controlled. Whatever we grow into, it's essential to stay at the top of our game academically."
Looking to the future, he would like to see growth in another area – endowment. "Older donors in the prime of their career could fund a building or a lab or a research program, while younger alumni could fund something smaller in scale like a scholarship. No matter your stage of life, there's a way for you to contribute," he said.