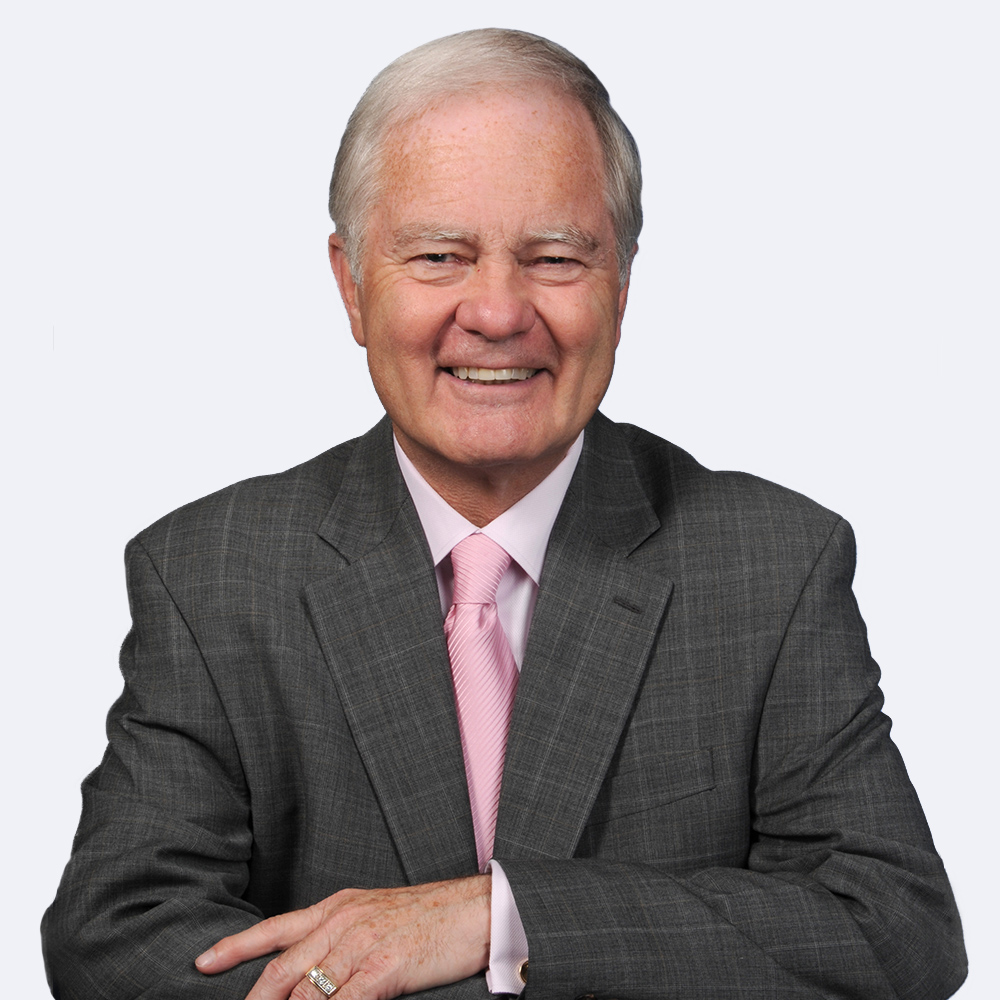 General Ronald Keys (HonDoc '19)
Career Highlights
During his 40 years in the Air Force, General Ronald Keys was stationed around the world including Asia and Europe. He made 27 moves in his career. As a pilot, he flew more than 4000 hours in the F-4, F-15, F-16, and A-10. In his last job as commander of Air Combat Command, he was responsible for more than 1,200 aircraft, 27 wings, 17 bases, 200 operating locations worldwide, and 105,000 personnel. Under his leadership, the Air Force's first Unmanned Aerial Vehicle Wing and first Network Warfare Wing were established.
At his retirement in 2007, Keys received the Air Force Association's most prestigious annual award – the H.H. Arnold Award – for his significant contributions to national defense. He also received the Air Force's first ROTC Distinguished Alumni Award.
Keys owns RK Solution Enterprises, an independent consultancy on a broad variety of Department of Defense (DOD) and non-DOD issues, advising numerous agencies and organizations on the topics of national security, homeland security, cyber planning and operations, advanced technologies, and unmanned aerial vehicles as well as energy security and climate change issues.
Keys holds a bachelor's degree from Kansas State University and an MBA from Golden Gate University. In addition to numerous professional military education courses, he participated in the National and International Security Seminar at the JFK School of Government, Harvard University, as well as Leadership at the Peak program at the Center for Creative Leadership in Colorado Springs.
General Keys has also joined the board of directors for Systems Planning and Analysis, Inc. (SPA), an organization that provides analysis and program, policy and business solutions to national security and national defense customers.
Excited About the Future
Over the course of his four decades of service, he came to respect Embry-Riddle for its "great reputation for pilots and other military degrees" and notes that the university's Worldwide Campus is well known in the Air Force because it allows active-duty personnel to further their education in a flexible and convenient way.

Three years after retiring from the military, Keys wanted a new challenge and was a natural fit with Embry-Riddle's Board of Trustees.
"Here is a university focused on things I know about and care about — aeronautics," he said. "But the university is also very forward-looking in a number of other areas. As an example, at the Prescott Campus in Arizona a few years ago we established the College of Security & Intelligence (CSI), the first of its kind in the nation."
The CSI combined with Embry-Riddle's four other colleges – Arts & Sciences, Aviation, Business, and Engineering — offer more than 80 degree programs, making Embry-Riddle a broadly diversified university. "When I talk with people who are unfamiliar with Embry-Riddle or think we're just a flight school, I always point out that the university is way beyond that," Keys said.
Keys is excited about Embry-Riddle's deepening commitment to research, innovation, and entrepreneurship for students and faculty in conjunction with partners from industry, government, and other universities. "You've got to have a certain amount of world-class research because that attracts world-class faculty and that's what underpins world-class graduates," he said.
"You look at the Research Park we've started in Daytona Beach, Florida, you look at the efforts connecting entrepreneurship to the Research Park," Keys said. "It's not just about being engineers and having great ideas and building great things, but also how do you create a startup? How do you actually put together a business plan? I see this challenge often in my business when I'm working with technology startups — how do I interest investors, how do I market my product, how do I create my enduring niche? Embry-Riddle's College of Business is heavily involved in that aspect of the Research Park."
What keeps Keys engaged as a trustee is Embry-Riddle's focus on the students and the skills and knowledge they need to acquire. "Our curriculum is relevant to real-world careers, so after conducting meaningful research in tandem with faculty and then ideally serving in industry internships, the vast majority of our graduates secure a job in their selected discipline shortly after graduation. We have thousands and thousands of graduates working in very critical industries."
Keys believes it's crucial that middle-school and high-school students be exposed to the STEM subjects of science, technology, engineering, and math as early as possible if the United States is to continue to be a global leader in those areas. Summer camps at the Prescott and Daytona Beach campuses have been highly successful in that objective.
"In addition, Embry-Riddle has very effectively established dual-enrollment programs with numerous high schools in Florida to encourage kids in STEM pursuits," Keys said. "The program gives them a jumpstart in learning how to be successful at Embry-Riddle and in the job market."
Keys is proud of Embry-Riddle for embodying an Air Force saying that the crucial elements of air power are flexibility, speed, and range. "You have to be flexible, you have to do things quickly, and you have to have a range of action. That to me sums up Embry-Riddle — the fact that we are willing to change."
One of the big changes he has witnessed during his time on the Board is much closer coordination of the Daytona Beach, Prescott, and Worldwide campuses in developing course flexibility. "For example, a student taking a course in a physical classroom who has a schedule hole can plug it with an on-demand EagleVision online course," Keys said. "We want to make sure that as many people who come to Embry-Riddle can in fact stay at Embry-Riddle and graduate... efficiently and effectively."
Looking into the future, Keys believes that Embry-Riddle's biggest opportunities are to continue to grow the campuses with the involvement of alumni and donors, keep costs down, and expand the roster of world-class graduate programs. "We have a certain cachet around the world, so let's keep the focus on burnishing that reputation through top-quality research, degree programs, faculty, and alumni."