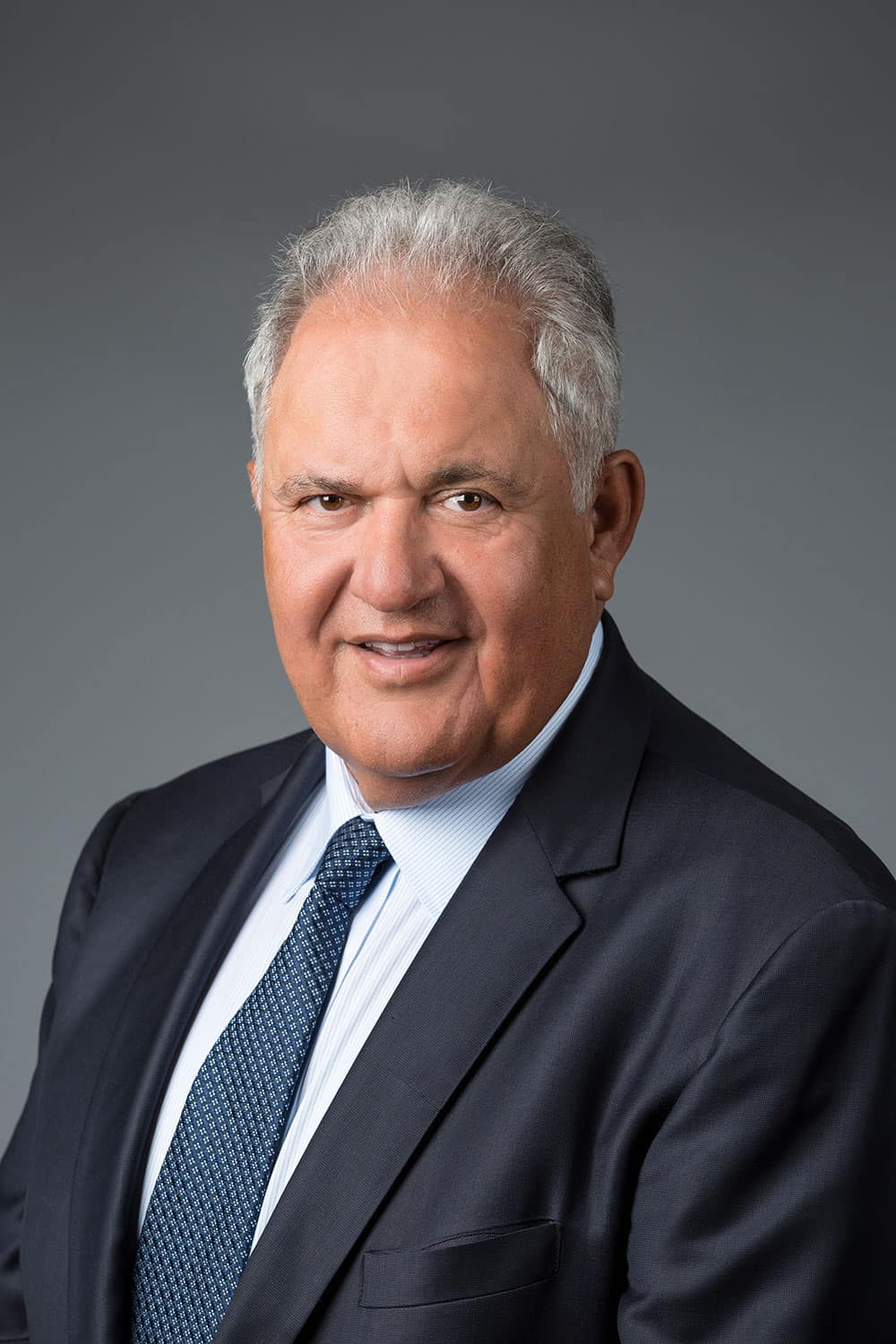 Mori Hosseini
Chairman of the Board
January 2, 2021
Dear Fellow Eagles,
"Continuing to Excel During Extraordinary Times" was the theme of the 2020 State of the University address and Embry-Riddle Aeronautical University did just that. The pandemic touched us all and forced institutions to refocus on their core mission. Opportunities are not always gift-wrapped. Sometimes they come to us as challenges and hard choices. At Embry-Riddle, we built on our strengths to remain a productive community. We will use what we learned to become an even better university as we move into a healthier 2021. I am proud to share so many highlights from a year that brought so many setbacks across the country.
We Rely on our Safety Culture. While many universities were forced to close their doors and transition to online learning because of the pandemic, Embry-Riddle was able to provide more than 10,000 students with meaningful face-to-face instruction thanks to the strong safety culture across the university. Since March, our faculty and staff have delivered more than 60,000 hours of classroom instruction and 98,000 hours of flight/simulator time with safety always a top priority.
We Retain High Rankings. For the fourth consecutive year, Embry-Riddle's Prescott, Arizona campus claimed the nation's No. 1 spot in U.S. News & World Report's 2021 Best Colleges guidebook, for Best Undergraduate Aerospace / Aeronautical / Astronautical Engineering Programs at schools where a doctorate is not offered. The Daytona Beach, Florida campus ranked among the top five schools in its region for veterans and for innovation. The Worldwide campus ranked No. 2 in Best Online Bachelor's Degree Programs.
Our Economic Impact Soars. The university's economic impact tops $2.3 billion – up 44% since 2016. The independent Washington Economics Group reports that we are a leading creator of high-paying employment, supporting 18,000 jobs in Florida and Arizona. Our research park has generated more than $90 million in economic impact in Florida and it has created 500 jobs.
We Preserve Dreams of Aviation Careers. Our Financial Services team worked with families under financial pressure and took on extra duties related to the pandemic. Our Financial Aid advisors shifted to virtual outreach to help students. To respond to the goals of our industry partners, we will recruit more high-potential students currently underrepresented in the industries we serve. We will make our campuses a launchpad for all.
We Remain Financially Stable. Thanks to sound investments and disciplined oversight, we avoided layoffs and cuts to programs and continued with planned improvements. In 2020, we built a Worldwide campus headquarters building and replenished our fleets.
Our Innovation Sets Records. It was a record-setting year for research and development, with 11 invention disclosures, 5 patent applications, 8 innovative small-business research partnerships, nearly $24 million in expenditures and $30 million in research awards.
New leaders boost our tech savvy. Three new trustees joined our board. Dr. Janet Kavandi is a scientist, former NASA astronaut and Director of NASA Glenn Research Center who is now a senior vice president with Sierra Nevada Corp. Neal Keating is the longstanding CEO of Kaman Corp. Steve Nordlund is an alumnus who is a VP and general manager with Boeing NeXt. At Prescott, Dr. Anette Karlsson brings impressive academic and industry experience to her role as chancellor.
We are transforming student experiences. Students now have access to advisors assigned to each college and a director dedicated to helping them compete for scholarships, fellowships and awards. The university will solicit gifts for scholarships that Embry-Riddle will match. We are adding Industry Advisory Boards for every major to prepare our graduates to address real-world priorities. We are also introducing business fundamentals and data analytics courses for technical majors and projects involving virtual teams. These enhancements make students competitive in seeking high-paying careers and senior leadership positions.
Eagles Continue to Define the Future of Space. The U.S. Space Force has commissioned six new graduates as space operations officers, making them the first Eagles to enter the newest branch of the U.S. military.
Alumni Make Air Force History. This summer, Gen. Charles Q. Brown Jr. ('95) became the first African American service chief in the U.S. Armed Forces. General Brown tapped JoAnne Bass ('05) to become the first woman to serve as the chief master sergeant of the U.S. Air Force.
We Add Value. We are adding data science and business analytics content to make all students more marketable. We are also creating opportunities for students to work on virtual team projects. An early success story in MEGLE, the Martian Environmental and Geological Life Examination, a cross-campus research and design project undertaken by 35 Daytona Beach and Prescott students.
We Help Veterans Launch New Careers. We are creating entry points to successful civilian careers for veterans. In 2018, we introduced the U.S. Department of Defense SkillBridge aviation maintenance program in collaboration with Pratt and Whitney and AAR. The third cohort is now in the program. Since its launch, we have seen a 100% completion and placement rate.
We Are Expanding Global Engagement. In Brazil, we offer an aviation English program to more than 1,300 air traffic controllers and a safety management program for the Civil Aviation Authority. We also continue our work with the three national airlines. In Singapore, we launched virtual workshops on restarting airports and airlines in the post-pandemic era. Our commitment to connecting the world through aviation earned the Senator Paul Simon Award for Campus Internationalization.
We Are Developing a Unique Cybersecurity Center. Our Center for Aerospace Resilience (CAR) will protect the security of data that flows between platforms, vehicles and towers from a hardware and software perspective. A grant from the State of Florida funds this partnership with the University of Florida. CAR will be based in Embry-Riddle's research park.
We Created New Connections. We made college-credit, STEM-focused courses available to high school students as they moved to at-home learning. In collaboration with Women in Aviation International and the Girl Scouts, we also provided an aviation-focused online course to nearly 5,000 young women. We continue to develop workforce education for industry, including a new aviation awareness certificate launched with Unison.
On behalf of all Trustees, thank you for sharing our commitment to keeping Embry-Riddle Aeronautical University flying higher than ever. Happy New Year. In 2021, let's raise our graduates – and reputation – to new heights.

Sincerely,
Mori Hosseini
Honorary Doctorate '13, MBA '82, BS '79
Chairman of the Board of Trustees
Chairman & CEO, ICI Homes