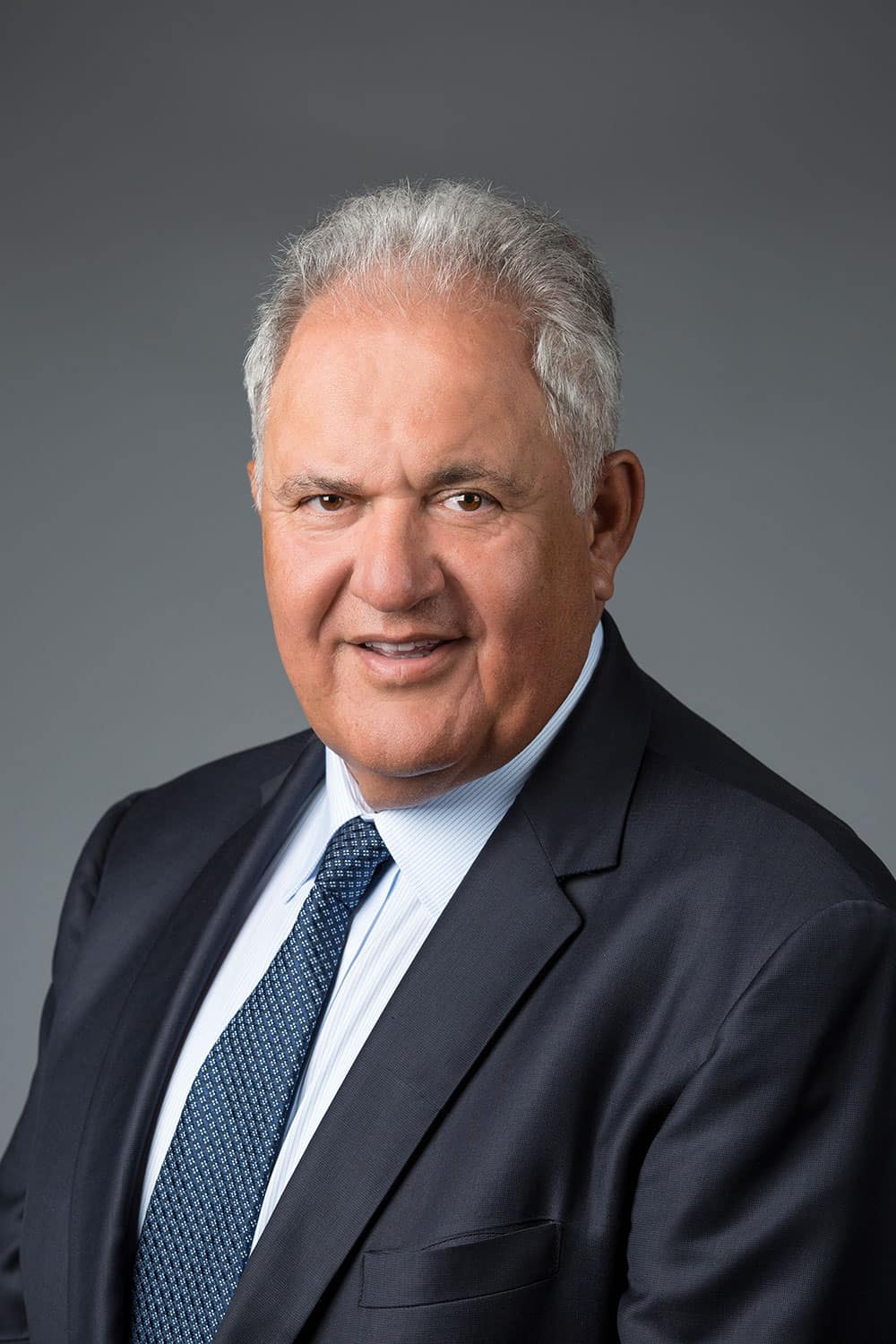 Mori Hosseini
Chairman of the Board
Dear Fellow Eagles,
When Artemis I blasted into space on November 16, 2022, marking the first step toward returning humans to the Moon, Embry-Riddle Aeronautical University was there … with many alumni supporting the mission. Thank you for helping us prepare future leaders, and for your role in these and other wins in 2022:
Game-Changers: Hyatt and Cici Brown.
With their transformational $25 million gift to Embry-Riddle, Hyatt and Cici Brown confirmed Volusia County, Florida's, importance as a primary engine for the rapidly growing aviation and aerospace economy. Their historic gift, matched by the State of Florida, will launch the new Cici and Hyatt Brown Center for Aerospace Technology, promote innovation, attract top talent, create high-paying jobs, and provide scholarships.
Strong Demand. High Value.
Embry-Riddle serves more than 32,750 students and demand for our degree programs remains robust. Overall enrollments in the Aeronautical Science programs at our Daytona Beach, Florida, and Prescott, Arizona, campuses grew by more than 33 percent between fall 2018 and fall 2022. Our Aerospace Engineering programs saw a nearly 30-percent overall increase over the same time period. Such growth reflects the value of our degrees —
Nearly 96 percent of our alumni are employed or continuing their education within a year of graduation.
Embry-Riddle's Worldwide Campus — offering access to higher education from Singapore and Brazil, to Europe and elsewhere — shares top honors as America's No. 1 provider of online bachelor's degrees, according to the 2022 U.S. News & World Report rankings.
Multiple Top 10 rankings are held by our two residential campuses as well as Worldwide's undergraduate Engineering programs.
Gold Standard in Professional Aviation Education.
Embry-Riddle's fleet, including 160 training aircraft, is the size of a small regional airline. We logged more than 150,000 flight hours and 351,000 takeoffs and landings over the past 12 months. Students also completed more than 39,000 simulation-training hours. In all we do, safety remains paramount.
Scholarships Change Lives.
We are ramping up scholarship support. In fiscal year 2022, Embry-Riddle helped students succeed by awarding more than $2.8 million in scholarships from its 366 active scholarship funds. Our College Philanthropy Councils have played a key role in these efforts. Since 2020, the Councils have awarded 35 scholarships and funded 62 innovative student projects. Yet, urgent student needs always far outpace resources. Leading the way are donors like Ken Jillson of Laguna Beach, California, whose irrevocable estate gift, valued at $5+ million, established a major new scholarship.
Eagles Explore New Horizons.
When the next lunar landing happens, Embry-Riddle will help steer one of the first American satellites to touch the Moon since 1972. As part of that mission, the "EagleCam" miniature satellite camera will take photos and gather information to make future missions safer. Students are also developing an immersive camera payload with alumnus Jared Isaacman ('11) as he prepares for Polaris Dawn, the first in a series of human spaceflight missions.
Transformative Awards for Students.
Supported by the Office of Prestigious Awards and Fellowships, student achievements have increasingly earned national recognition. During the 2021-22 academic year alone, 62 students received a prestigious award and, as a community, Embry-Riddle received 22 such awards and fellowships.
Serving Those Who Serve.
Since 1926, Embry-Riddle has been serving veterans, members of the military, and their families. For 2022-23, each of our campuses ranked as a Military Friendly School with a Gold Distinction, according to MilitaryFriendly.com. Embry-Riddle is also a U.S. News & World Report Best for Veterans school across all campuses.
Careful Stewardship and Growth.
Embry-Riddle's operations are well-managed. With strong, investment-grade credit ratings of A+ (Fitch) and A2 (Moody's), the University has managed its resources in a very responsible manner and has been able to make transformative investments in our students, faculty/staff, programs, and facilities. Last year, we unveiled a state-of-the-art Fitness Center at the Daytona Beach Campus as well as a multi-project plan to update existing buildings, expand facilities, and improve the student experience at the Prescott Campus.
Student. Person. Player.
We renamed our basketball court at the ICI Center to honor Basketball Coach Steve Ridder, his wife Vicky and his "Student, Person, Player" philosophy. Embry-Riddle also raised $1.2 million to uplift student-athletes, improve facilities, and honor two exceptional boosters, the late Jay and Leila Adams. That fundraising effort kicked off with lead gifts from Cici and Hyatt Brown; Glenn and Connie Ritchey; and Forough and me — along with 100 percent of our volunteer Board of Trustees.
Innovation and Economic Progress.
Since 2017, 163 jobs paying an average annual salary of $75,000 have been created through our Research Park. Some 25 affiliated companies have raised $101 million from grants and investors while employing 210 student interns. We are making the skies safer and combating cyber-crime, too, thanks to the Center for Aviation and Aerospace Safety, headed by former NTSB Chairman Robert Sumwalt, and the Center for Aerospace Resilience.
President Butler has urged us to keep students excited about learning so they can succeed. To help more Eagles turn their dreams into reality, please consider a donation to givingto.erau.edu/give.
On behalf of the Embry-Riddle Board of Trustees — thank you for your support. Forough and I wish you a healthy, happy New Year.
Sincerely,
Mori Hosseini
Honorary Doctorate '13, MBA '82, BS '79
Chairman of the Board of Trustees Chairman & CEO, ICI Homes