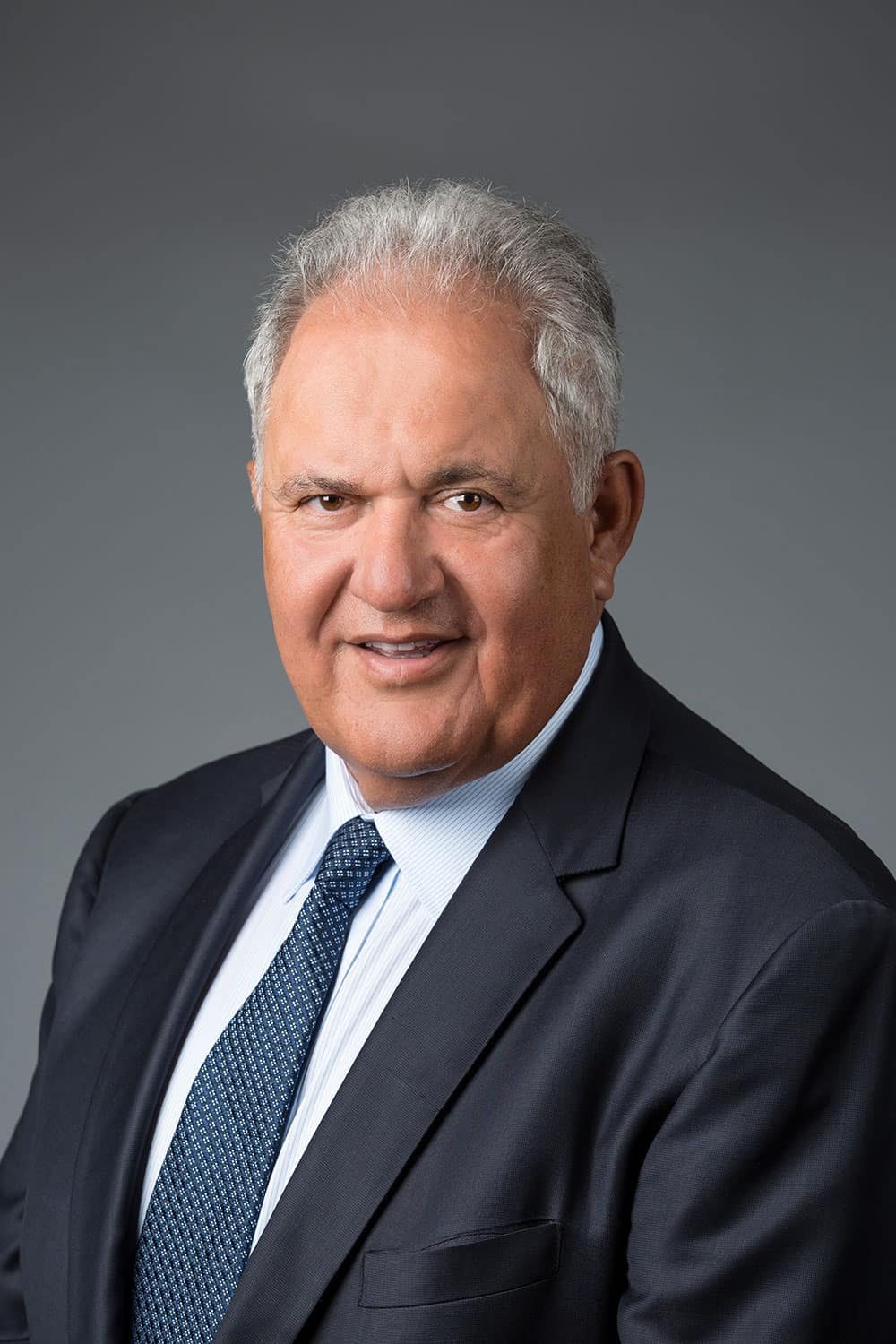 Mori Hosseini
Chairman of the Board
January 2, 2020
Dear Fellow Alumni,
"It's been a great year." That is how President Butler opened his State of the University address. The Board of Trustees could not agree more. We are realizing the vision defined by our 2018-2023 Strategic Plan. I am delighted to share 2019 milestones that reflect progress toward Embry-Riddle's top initiatives.
New leaders boost our tech savvy. Three new trustees joined our board. Dr. Janet Kavandi is a scientist, former NASA astronaut and Director of NASA Glenn Research Center who is now a senior vice president with Sierra Nevada Corp. Neal Keating is the longstanding CEO of Kaman Corp. Steve Nordlund is an alumnus who is a VP and general manager with Boeing NeXt. At Prescott, Dr. Anette Karlsson brings impressive academic and industry experience to her role as chancellor.
We are transforming student experiences. Students now have access to advisors assigned to each college and a director dedicated to helping them compete for scholarships, fellowships and awards. The university will solicit gifts for scholarships that Embry-Riddle will match. We are adding Industry Advisory Boards for every major to prepare our graduates to address real-world priorities. We are also introducing business fundamentals and data analytics courses for technical majors and projects involving virtual teams. These enhancements make students competitive in seeking high-paying careers and senior leadership positions.
Our enrollment plan supports our long-term success. Applications for our two residential campuses increased 39 percent and overall enrollment reached all-time highs. To oversee our enrollment strategy, a VP of enrollment management will join senior leadership in 2020.
Good stewardship pays off. Embry-Riddle received a credit rating increase from Fitch Ratings – moving from the A- to the A+ category. Concurrently, Moody's Investor Service, which upgraded our 2017 rating, revised its outlook from stable to positive. These ratings lower our cost of borrowing so we can invest the savings into faculty, infrastructure, scholarships and projects that improve student life. The rating agencies commended the board's consistent investment in facilities and the university's consistently positive operating performance – a board priority.
Our international reputation is growing. Embry-Riddle now operates in nine countries, including a Singapore campus of 600 students and a program entering its fourth year in Brazil. We grabbed global attention at the Paris Air Show with the announcement that Arralis, a communications leader based in Ireland, would join the Embry-Riddle Research Park. We sent two teams to the Andes LIDAR Observatory in Chile to gather data during a total solar eclipse. Even farther afield, Aerospace Engineering students designed and produced a camera attachment for the International Space Station.
We are delivering groundbreaking research and discovery-driven education. Our professors secured research grants from the National Science Foundation (NSF), NASA, Department of Transportation and the U.S. Department of Education. Three professors earned recognition as NSF Faculty Early Career Development Program (CAREER) honorees. Military and commercial projects are in test and development at our Wind Tunnel Facility and Applied Engineering Research Hangar, which opened at full occupancy. In 2020, we will welcome government, academia and industry leaders to summits on aviation cybersecurity and simulation.
We are establishing a culture of philanthropy. We received the two most generous gifts in our history, totaling $26 million. The estate of Dr. Helen Wessel created an endowment for our pioneering aerospace physiology program. A gift from an anonymous donor will continue to fund scholarship and student success initiatives. Thanks to Boeing, 19 Boeing Scholars at Embry-Riddle benefit from endowed scholarships. Participation in our Faculty and Staff Giving Campaign broke records.
Beyond these milestones, the Board of Trustees supported and celebrated these achievements:
We earned the No.1 spot on U.S. News & World Report's 2019 ranking of the United States' best online bachelor's degree programs. For the fourth year, Embry-Riddle Worldwide Campus ranked the 2019 Best Online Bachelor's Programs for Veterans.
Over the next few years, we will replenish and add to our training fleet with an initial order of 60 Cessna Skyhawk aircraft from Textron Aviation, Inc., and 4 DA42-VI aircraft from Diamond Aircraft Industries, Inc.
We expanded our commitment to helping veterans transition to high-paying careers through an aviation maintenance certification developed with Pratt & Whitney and AAR.
We applaud our student-athletes, who consistently earn higher than average GPAs. Athletic scholarships make an Embry-Riddle education available to talented young people we may not otherwise be able to recruit.
Embry-Riddle Worldwide engineering programs earned ABET accreditation, making these programs more respected by industry and in-demand by students.
To continue to excel, our goal is to more than double gifts to the university. Help other Eagles soar with a donation to givingto.erau.edu/give
As alumni, there are additional ways to contribute:
Be our ambassador at your workplace, encouraging mentorship and internships.
Support STEM education so tomorrow's problem-solvers choose Embry-Riddle.
Visit campus and meet students. In 2020, there will be new things to see at Prescott (a student union) and Daytona Beach (a parking garage, residence hall and fitness center).
Happy New Year. In 2020, let's raise our graduates – and reputation – to new heights.

Sincerely,
Mori Hosseini
Honorary Doctorate '13, MBA '82, BS '79
Chairman of the Board of Trustees
Chairman & CEO, ICI Homes