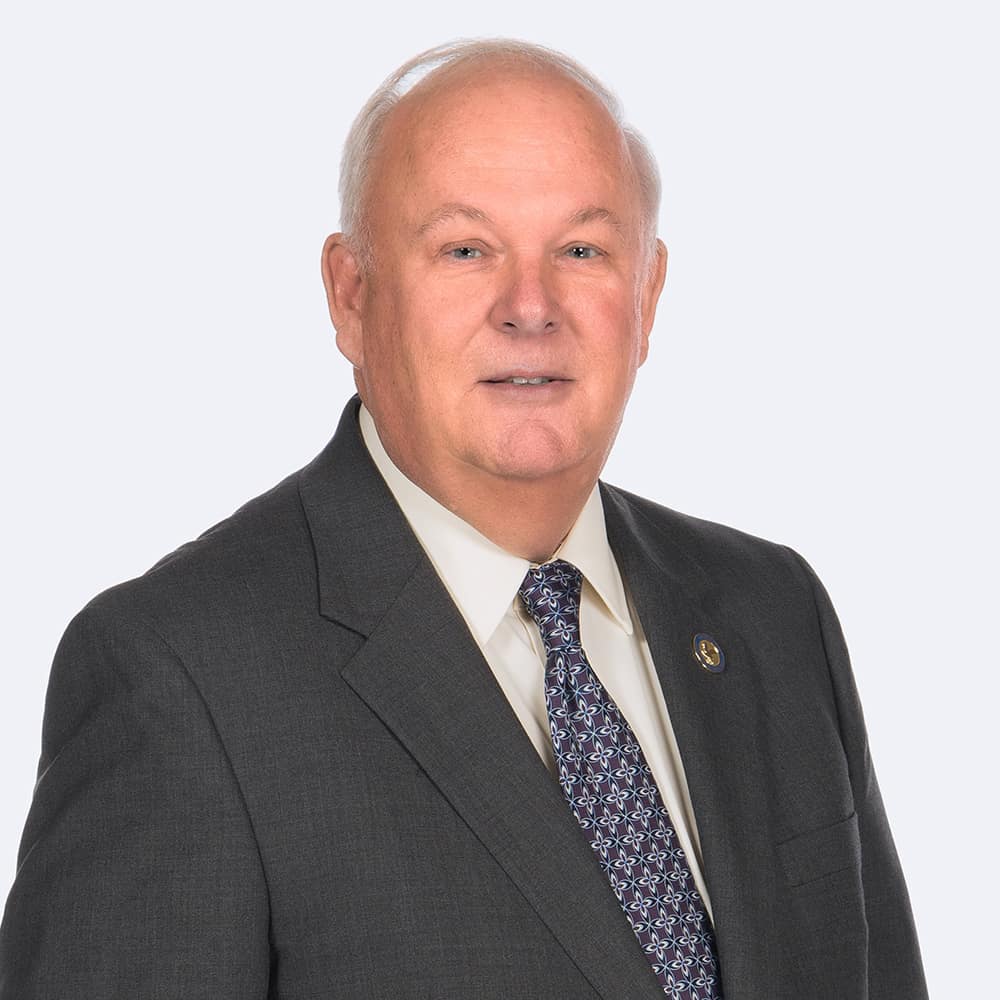 David O'Maley
Member since 2014
Chairman, Business Partnership Committee
Development and Finance Committees
Career Highlights
David O'Maley was elected to the position of Chairman, President and Chief Executive Officer of Ohio National Financial Services in February 1994. He joined the company in March 1992 as Executive Vice President, and was elected President and Chief Operating Officer in 1993. He retired as President and CEO in December 2010, but remained as Executive Chairman until his retirement from the Board in May 2012. He was elected Chairman Emeritus in recognition of his significant leadership accomplishments, which were transformational to the company.
O'Maley began his life insurance career in 1968 as an agent, and spent 24 years with Life of Virginia. Beginning his career as an agent, he progressed through various sales and management roles and later transferred to the company's home office as Vice President and was subsequently promoted to Senior Vice President. He became Chief Marketing Officer in 1986 and was a member of the Board of Directors and Executive Committee. He also served as President of the company's securities broker dealer and two life insurance company subsidiaries.
A native of Long Island, New York, O'Maley received a bachelor's degree in marketing from Florida Atlantic University in Boca Raton, Florida, and a master's degree in financial services from The American College, Bryn Mawr, Pennsylvania. He has also received Chartered Life Underwriter and Chartered Financial Consultant designations.
O'Maley has served on the Board of Directors of U.S. Bancorp since 1995; he is currently the bank's Lead Director, and a member of the Compensation & HR Committee and of the Governance Committee. He served on the Board of Directors of The Midland Company, a public property and casualty insurance company, for 10 years as the Chair of the Compensation Committee and member of the Governance Committee. He also serves as a Board member of the Embraer Jet Operators Association.
He is an active community leader, having previously served as a member of the Cincinnati Business Committee, Director Emeritus of Bridges for a Just Community (formerly NCCJ), Board member of The Chamber of Commerce, University of Cincinnati Foundation, The Greater Cincinnati Foundation, The Metropolitan Growth Alliance, University of Cincinnati Neurological Task Force, and as a Board member and President of the Cincinnati Country Day School. In 1996 he served as Chairman of the United Appeal Board and chaired the community-wide United Way Campaign, raising over $50,000,000.
In the area of aviation, O'Maley is a cofounder of the Tri-State Warbird Museum, a historic aviation museum, where he currently serves as Chairman. Opened in the spring of 2005, the museum is dedicated to honoring those who fought for our freedom and America's rich aviation history. The museum has one of the largest collections of flyable World War II aircraft.
He is an active pilot, holds an Airline Transport Pilot license, instrument and multi-engine ratings, six different TurboFan type ratings, has logged over 7,000 hours with 4,000 hours in turbine aircraft. O'Maley was awarded The Wright Brothers Master Pilots Award by the Federal Aviation Agency in 2016 for having flown more than 50 consecutive years without an accident, incident, or violation, and for having made a significant contribution to the aviation community.
David O'Maley is married to Karen (Gregory) O'Maley, and they have three children. In addition to flying, he enjoys playing golf and spending time with his family during his leisure time.
Parallel Paths
Embry-Riddle had a habit of showing up on O'Maley's radar every 20 years or so. He drove past a school billboard in Miami, Florida, in the 1970s, flew over the Daytona Beach Campus, bought a nearby home in the 1990s and located Ohio National's flight operations at Ohio's Lunken airport, right next to the hangar where Embry-Riddle was founded. Were these just coincidences?
Whatever the case, the aviator has been on a parallel track with Embry-Riddle for many years. "It's one of those things that might cause you to say there is a little bit of providence to this," he said.
It would take almost 50 years of being involved in aviation circles for O'Maley's path to finally intersect directly with Embry-Riddle. A mutual business contact introduced him to then-president Dr. John P. Johnson. That meeting was followed by a series of campus visits that led to a budding philanthropic relationship and, ultimately, to an invitation to join the Board of Trustees in 2014.
Today, the university continues to be a perfect fit, said O'Maley, retired President, Chief Executive Officer and Chairman Emeritus of the Ohio National Life Insurance Co. The university's focus and ability to expand within the broader context of aviation — such as design, engineering, weather, and its rich aviation history — regularly renews his inspiration to volunteer his time and talents.
"This is a magnificent place, with fantastic students and faculty. When people have a passion for flight — a passion for aviation — to me, it's a noticeable differentiator," said O'Maley. "I'd like to believe I have that and I gravitate to people who have that as well."
Embry-Riddle also offers O'Maley the opportunity to explore and support his other passion: education. He and his wife Karen established the O'Maley Family Endowed Scholarship for Embry-Riddle business students and they support various scholarships at other universities.
This spirit of generosity was born when O'Maley was struggling to finance his dream of becoming a commercial airline pilot in the 1960s. O'Maley's onetime benefactor Norm Tener was a casual acquaintance when he took an interest in O'Maley's education and helped to start him on the path to success, through a loan. He eventually paid the loan off, but always remembered the generous gesture and the difference Tener made in his life.
"His one charge to me was that someday, when I was able, that I do something similar to help other young people further their education. That conversation and that obligation that he sort of passed on to me have not been forgotten," he said.
While O'Maley did indeed go on to earn his Airline Transport Pilot certificate as well as airframe and powerplant mechanics ratings, he ended up pursuing insurance as his vocation. His avocation of aviation, however, is more than just an average hobby. He and his wife are the joint founders of the Tri-State Warbird Museum in Batavia, Ohio. The museum is dedicated to honoring America's rich aviation history and features one of the largest collections of flyable World War II aircraft.
Considering how closely aligned his avocation is with Embry-Riddle, supporting the university and its students makes sense, he said, especially when considering the excellent Return on Investment alumni experience in the field. Those potential returns are clear in the national PayScale College Salary Report for private schools in the bachelor's degree category, which ranks schools based on highest median alumni salaries. According to the 2016-2017 report, Embry-Riddle's Prescott Campus ranks No. 1 in Arizona, followed by the Daytona Beach Campus at No. 2 in Florida and the Worldwide Campus at No. 7 in Florida.
Calling Embry-Riddle "an undiscovered diamond," O'Maley said he is most proud of the tools the students become equipped with to begin their careers in their chosen profession. "The Return on Investment is immeasurable," he said.
As the university looks forward to its centennial anniversary in 2026, though, there's more work to be done in ensuring Embry-Riddle's brand reaches new heights within aviation circles and also within a broader context, said O'Maley, a former chief marketing officer for insurance firm, Life of Virginia. The university is in a position to grow its reputation and be recognized for it.
It's a goal that can be accomplished with the right leadership, he said, and it's attainable because the university has shown it is poised for that next step in educational excellence. Over the years, O'Maley has served in advisory roles with four other American universities — experiences that have helped shape his perspective when evaluating Embry-Riddle's opportunities for growth.
In 2018, the College of Business on the Daytona Beach Campus became the David B. O'Maley College of Business. A gift from the O'Maley family supports the College in its mission to inspire the next aviation business leaders, innovators, and experts.
"There's nothing that those institutions have that Embry-Riddle does not," he said. "To me, a major mission of marketing is simply to get people to recognize what you have. And it's clear Embry-Riddle has a remarkable proposition."