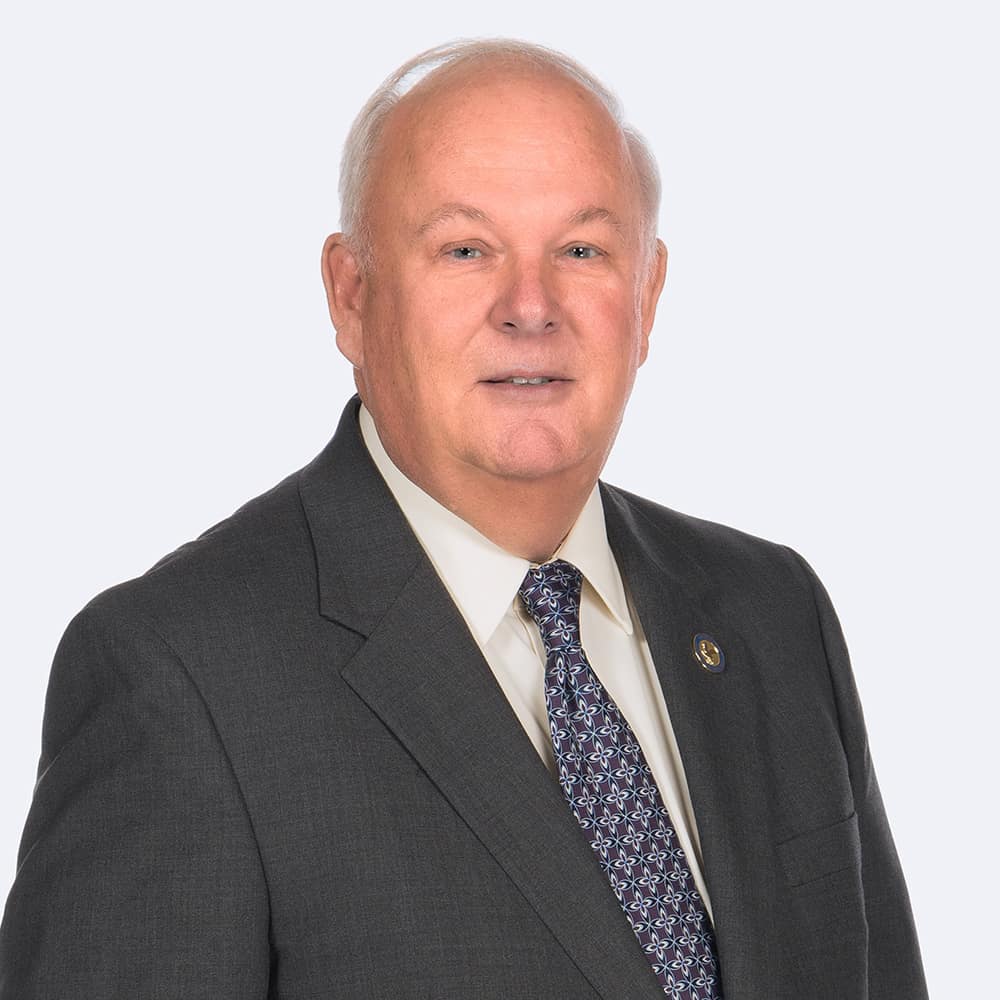 David O'Maley
Member since 2014
Chair, Business Partnership Committee
Development and Finance Committees
Career Highlights
David O'Maley enjoyed a long career in financial services and is credited with transforming Ohio National Financial Services as a senior leader. After joining the company in 1992 as executive vice president, he served as chief operating officer, chairman and chief executive officer. Upon his retirement in 2012, he became chairman emeritus.
He began his career in 1968 as a life insurance agent for Life of Virginia. During his 24-year tenure, he served as vice president, senior vice president and chief marketing officer. He went on to join the board of directors and executive committee and serve as president of the company's securities broker-dealer and two life insurance subsidiaries.
A native of Long Island, New York, O'Maley earned a bachelor's degree in marketing from Florida Atlantic University in Boca Raton, Florida, and a master's degree in financial services from The American College, Bryn Mawr, Pennsylvania. He has also received Chartered Life Underwriter and Chartered Financial Consultant designations.
O'Maley has served on the Board of Directors of U.S. Bancorp since 1995; he is currently the bank's Lead Independent Director, and a member of the Compensation & HR Committee and the Governance Committee. He served on the Board of Directors of The Midland Company, a public property and casualty insurance company, for ten years as the Chair of the Compensation Committee and member of the Governance Committee. He has also served as a Board member of the Embraer Jet Operators Association.
He has remained an active community leader, serving as a board member of the Cincinnati Business Committee, Bridges for a Just Community, Chamber of Commerce, University of Cincinnati Foundation (and its Neurological Task Force), The Greater Cincinnati Foundation, the Metropolitan Growth Alliance and Cincinnati Country Day School. He chaired the United Appeal Board and raised more than $50,000,000 for United Way as the campaign chair.
Inspired to Fly
His spirit of generosity was born when O'Maley struggled to finance his dream of becoming a commercial airline pilot in the 1960s. Norm Tener was a casual acquaintance when he took an interest in O'Maley's education and launched his success through a loan. O'Maley repaid the generous gesture and never forgot the difference Tener made in his life.
"His one charge to me was that someday, when I was able, I do something similar to help other young people further their education. That conversation and that obligation that he passed on to me have not been forgotten," he said.
O'Maley went on to earn an Airline Transport Pilot license, instrument and multi-engine ratings and six different TurboFan type ratings. He has logged over 7,000 hours with 4,000 hours in turbine aircraft. In 2016, he earned The Wright Brothers Master Pilots Award from the Federal Aviation Agency. This designation is awarded to pilots who fly more than 50 consecutive years without an accident, incident, or violation, and to those who have made a significant contribution to the aviation community.
The romance and history of aviation also have a hold on O'Maley, who co-founded the Tri-State Warbird Museum, a historic aviation museum, in 2005. The museum honors those who fought for our freedom and features one of the largest collections of flyable World War II aircraft.
Parallel Flight Paths
Embry-Riddle had a habit of showing up on O'Maley's radar every 20 years or so. He drove past a school billboard in Miami, Florida, in the 1970s, flew over the Daytona Beach Campus, bought a nearby home in the 1990s and located Ohio National's flight operations at Cincinnati's Lunken airport, next to the hangar where Embry-Riddle was founded. Were these just coincidences?
Whatever the case, the aviator has been on a parallel track with Embry-Riddle for many years. "It's one of those things that might cause you to say there is a little bit of providence to this," he said.
It would take almost 50 years of being involved in aviation circles for O'Maley's path to intersect directly with Embry-Riddle. A mutual business contact introduced him to then-president Dr. John P. Johnson. Campus visits led to a philanthropic relationship and, ultimately, an invitation to join the Board of Trustees in 2014.
Today, the university continues to be a perfect fit, according to O'Maley. The university's ability to expand its focus to the broadest context of aviation – including design, engineering, weather, and aviation history — renews his inspiration to volunteer his time and talents.
"This is a magnificent place, with fantastic students and faculty. When people have a passion for flight — a passion for aviation — to me, it's a noble differentiator," said O'Maley. "I'd like to believe I have that and I gravitate to people who have that as well."
Helping Aviation Careers Take Off
David and Karen established the O'Maley Family Endowed Scholarship for Embry-Riddle business students and they support various scholarships at other universities.
In 2018, the university rededicated the College of Business on the Daytona Beach Campus as the David B. O'Maley College of Business. A gift from the O'Maley family supports the College in its mission to inspire the next aviation business leaders, innovators, and experts.
His contribution extends far beyond a name on the building. O'Maley works with faculty members to redesign the curriculum to engage students and promote hands-on learning. Thanks to the continuing generosity of the O'Maleys, the College introduced an executive in residence program that hosts aviation and aerospace industry leaders as visiting professors. A new faculty fellowship program rewards educators for outstanding teaching, service and research and allows them to grow in their careers through additional training and certifications.
This reinvention supports his dream that, "Every student, regardless of their studies, be it engineering or aviation, needs some grounding in business so they can become leaders in the industry."
O'Maley expertise is spotting a good return on investment, and at Embry-Riddle, "It's clear we have a remarkable proposition."