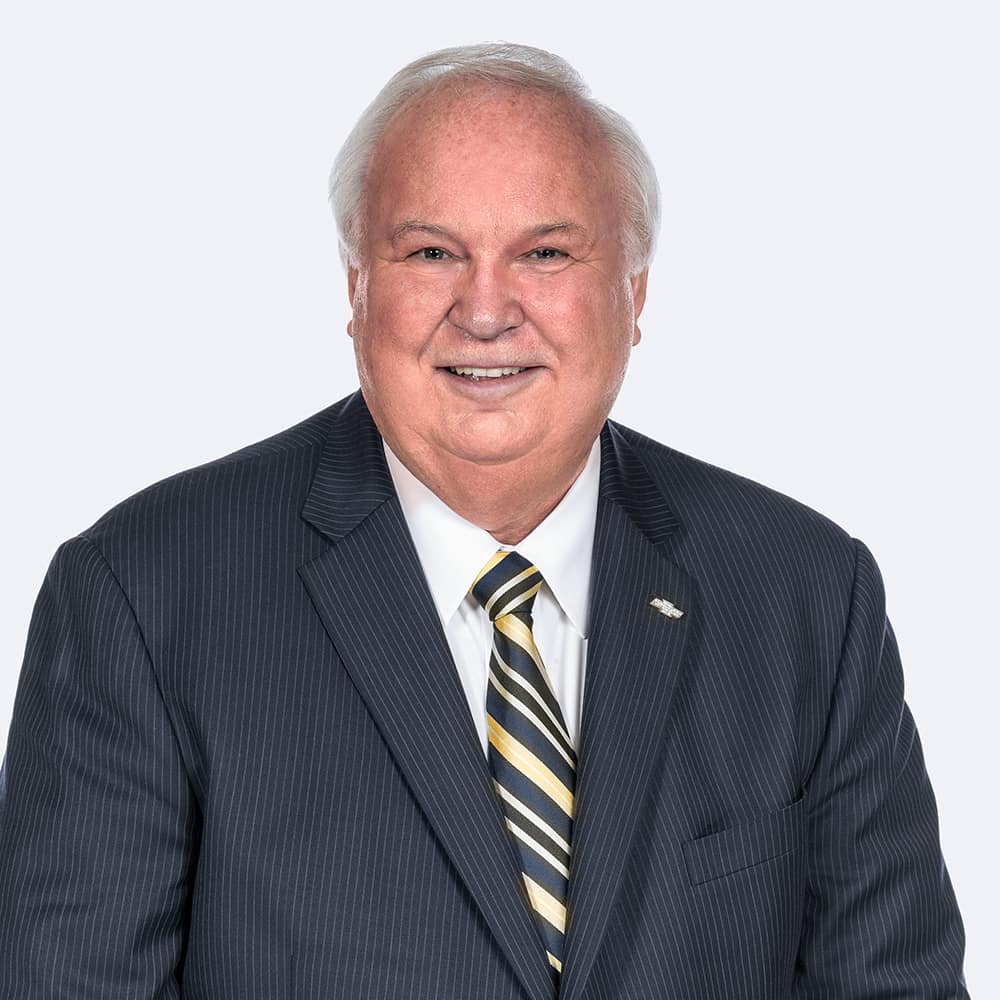 Glenn Ritchey
Member since 2007
Vice-Chair, Finance Committee
Facilities & Capital Planning and Student Life Committees
Career Highlights
Glenn Ritchey is currently President and Chief Executive Officer of the Jon Hall Automotive Group and Southeast Automotive Management in Daytona Beach. He served as city mayor from 2007-2012.
Ritchey's extensive public service record includes membership on the Daytona Beach Visioning Committee and the Daytona Beach Economic Development Board. Additionally, Ritchey has chaired the Daytona Beach Board of Adjustment and Charter Review committees, and has further served as vice-chair of the Volusia County Charter Review Committee.
He is also a Board member of the Boys and Girls Club of Volusia County, the Halifax Hospital Medical Center Board of Commissioners, the Halifax Medical Center Foundation, the Halifax/Bert Fish Hospital, the Futures Inc. Education Foundation for Volusia County Schools, the Volusia Red Cross, Easter Seals of Volusia County, and Bethune-Cookman University.
In addition, he has served as chairman of the News-Journal Performing Arts Center, the Florida International Festival, and the Civic League of the Halifax Area.
Ritchey has been honored for outstanding service by the United Way; was named Man of the Year by the Center for the Visually Impaired; and, along with his wife, Connie, are recipients of the first Council on Aging Community Service Award that now bears their names. Ritchey is also the recipient of numerous honors for his business accomplishments.
Special Connection
As a longtime businessman and tireless promoter of Daytona Beach, Florida, former city mayor Ritchey often points to Embry-Riddle as one of the area's most exciting and promising assets.
Currently President and Chief Executive Officer of the Jon Hall Automotive Group and Southeast Automotive Management, Ritchey feels a special affinity to Embry-Riddle and takes every opportunity to point out the school's stellar reputation to individuals and companies thinking of moving to Daytona Beach.
"We have five institutions of higher learning in our community, which is remarkable for an area our size," said Ritchey, who served as city mayor from 2007-2012. "Embry-Riddle is the star at the top of the tree."
Ritchey contributes his extensive business experience to Embry-Riddle's Board of Trustees, which he joined in 2007. Currently he is the Vice Chair of the Finance Committee and a member of the Facilities & Capital Planning and Student Life committees. Ritchey's expertise places him in a better position than most to understand the economic importance of the university's campuses in their communities.
"Embry-Riddle's Daytona Beach Campus has a substantial financial impact on the community, as does the Prescott, Arizona, campus, and the Worldwide campuses located around the globe," he said. With more than 31,000 students enrolled and 3,000 employees on the payroll as of early 2017, Embry-Riddle's roots run deep in various communities.
It was in the early 1970s that Ritchey first heard of Embry-Riddle and learned how local community leaders had donated their time, energy, and a convoy of 31 trucks to move Embry-Riddle from Miami to Daytona Beach in 1965. In the following years, the Prescott Campus and Worldwide Campus were established.
Evolving from that era, the university has grown in every way, from new high-tech buildings and labs – "the amount of development and redevelopment has been staggering," Ritchey said – to more than 80 degrees. The most in-demand degree programs are aeronautical science (professional pilot); aeronautics; air traffic management; aviation business administration; aviation maintenance science; cyber intelligence & security; global security & intelligence studies; homeland security; engineering (aerospace, electrical, mechanical, and software); engineering physics; human factors psychology; and unmanned aircraft systems science.
Newer degree programs include commercial space operations, emergency services, forensic psychology, global conflict studies, and simulation science. Consequently, Ritchey likes to point out to those who are unfamiliar with Embry-Riddle that it is much more than "a flight university and engineering school."
In his years on the Board of Trustees, Ritchey said he has witnessed much to be proud of, such as the continued ascendancy of Embry-Riddle to international renown due to the high quality of its degree programs, applied research, and its faculty, staff, students, and graduates. "Everybody is working together to create something very unique," he said.
Still, Ritchey sees opportunities for improvement, including fundraising. "We have a plan in place to ramp up our efforts in securing endowments, which will keep tuition lower and ensure we stay on track in acquiring the latest technology."
Ritchey also sees one of Embry-Riddle's biggest opportunities in the fact that 97 percent of Daytona Beach and Prescott campus graduates are employed or are continuing their education within one year of graduation. "That's an impressive statistic," he said. "If we share their success stories, we can not only attract the bright minds of the future, but also develop long-lasting connections between our alumni and their fellow Eagle graduates and students."
Embry-Riddle also needs to examine the best practices at peer universities and adopt those practices where appropriate, Ritchey said. "The legacy of the Board of Trustees should be that we moved Embry-Riddle forward, so that the university is on par with, or superior to, any other university our potential students might be considering."