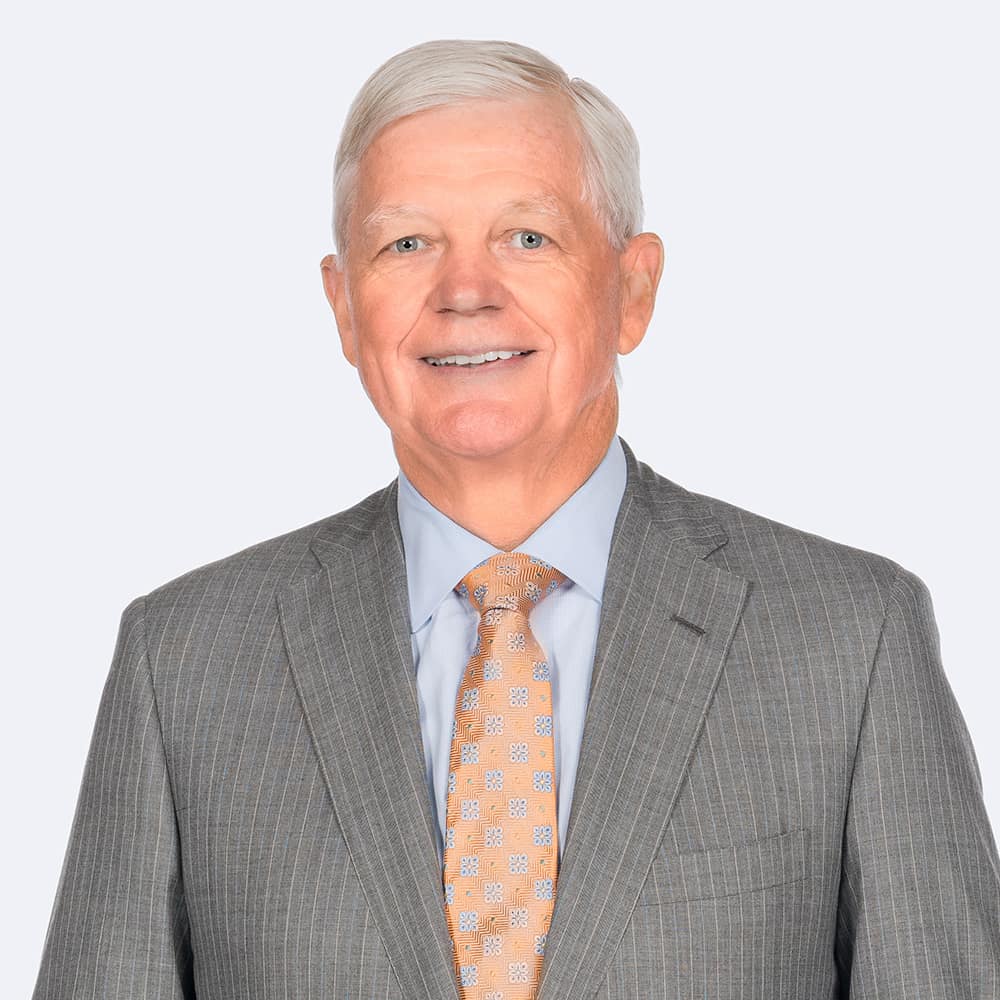 Jim Henderson (HonDoc '13)
Member since 2003
Served as Board of Trustees Chair for eight years
Vice-Chair, Board of Trustees
Audit, Committee on Trustees, Development, Executive, Facilities & Capital Planning, Finance, and Investment Committees
Career Highlights
In addition to his accounting degrees from Florida State University (FSU), Jim Henderson earned Chartered Property Casualty Underwriter (CPCU) and Certified Public Accountant (CPA) designations.
After his graduation from FSU, Henderson joined Ernst & Young, an international audit and consulting firm. In 1975, he became Senior Vice President and Treasurer of the Ormond Reinsurance Group.
Progressing in his career, Henderson began as Chief Financial Officer of Brown & Brown in 1985 and then Chief Operating Officer, President, and member of the Board. He retired from Brown & Brown in 2010.
Henderson founded AssuredPartners in 2011 and serves as Chairman and CEO. Based in Lake Mary, Florida, AssuredPartners is the fifth-largest private insurance brokerage firm in the United States, with 5,000-plus employees.
Long-time Connection
It has been almost 50 years since Henderson first became acquainted with the inner workings of Embry-Riddle Aeronautical University. To say the school "has changed" in that time would be an understatement for Henderson, who has remained closely connected throughout the school's journey to become the global leader in aviation and aerospace education.
"I've known Embry-Riddle since it was located in Quonset huts over by the Daytona Beach (Florida) airport, and I've watched its evolution into a world-class and worldwide institution," he said recently.
Henderson's history with Embry-Riddle stretches back to 1969, when he served as the school's external auditor with Ernst & Young. "I recall some creative financial reporting to keep the university compliant. Embry-Riddle has an impressive history by having the right leader in office at the right time to build an amazing institution," said Henderson.
Joining the Board of Trustees offered him the opportunity to make a difference. "With everything I do here, I see a direct connection to the beneficiaries, who are the students," said Henderson, a longtime financial supporter of athletics, scholarships, and capital projects. "I'm at a point in my life where I can give back, and I enjoy seeing the direct and positive impact it has on the students."
As an active community member in Central Florida for more than 30 years, Henderson has brought valuable experience to Embry-Riddle's Board of Trustees. He is currently Chairman and Chief Executive Officer of the private insurance brokerage firm, AssuredPartners Inc., and his many local contributions include serving as Director of the United Way of Volusia County and on the Board of Directors of Ronald McDonald House. He was also named an Outstanding Jaycee by the Orlando Jaycees. He has served on several public and private Boards, including Brown & Brown, Citizens Property Corp., Ironshore Insurance Co., Hallmark Insurance, Florida Hurricane Catastrophe Fund, and the Council of Insurance Agents and Brokers.
Throughout his time at Embry-Riddle, he has seen that passion is consistently evident among students and faculty. "That passion is inspiring to anyone around them — they just light you up," he said.
Their enthusiasm also drives Henderson to continue to earn the honor of his namesake building, the Jim W. Henderson Administration and Welcome Center, which opened in 2012 on Embry-Riddle's Daytona Beach Campus. "For them to place my name on this building is something I'm still working on to deserve," Henderson said in 2016.
But he has earned that distinction many times over, through leadership and contributions to the university. Dr. John Johnson, then-president of Embry-Riddle, praised Henderson at the ribbon-cutting ceremony as one who is "central to the lifeblood of the university, leads by example, and has done a great job of guiding the growth of Embry-Riddle over the years."
Looking into the future, Henderson sees opportunities for enhancement, including more scholarships to expand affordability for students and the establishment of more endowed chairs.
"When you have great faculty matched with great students, you get extraordinary outcomes," he said. "That is one of our goals for today, tomorrow, and some time to come."