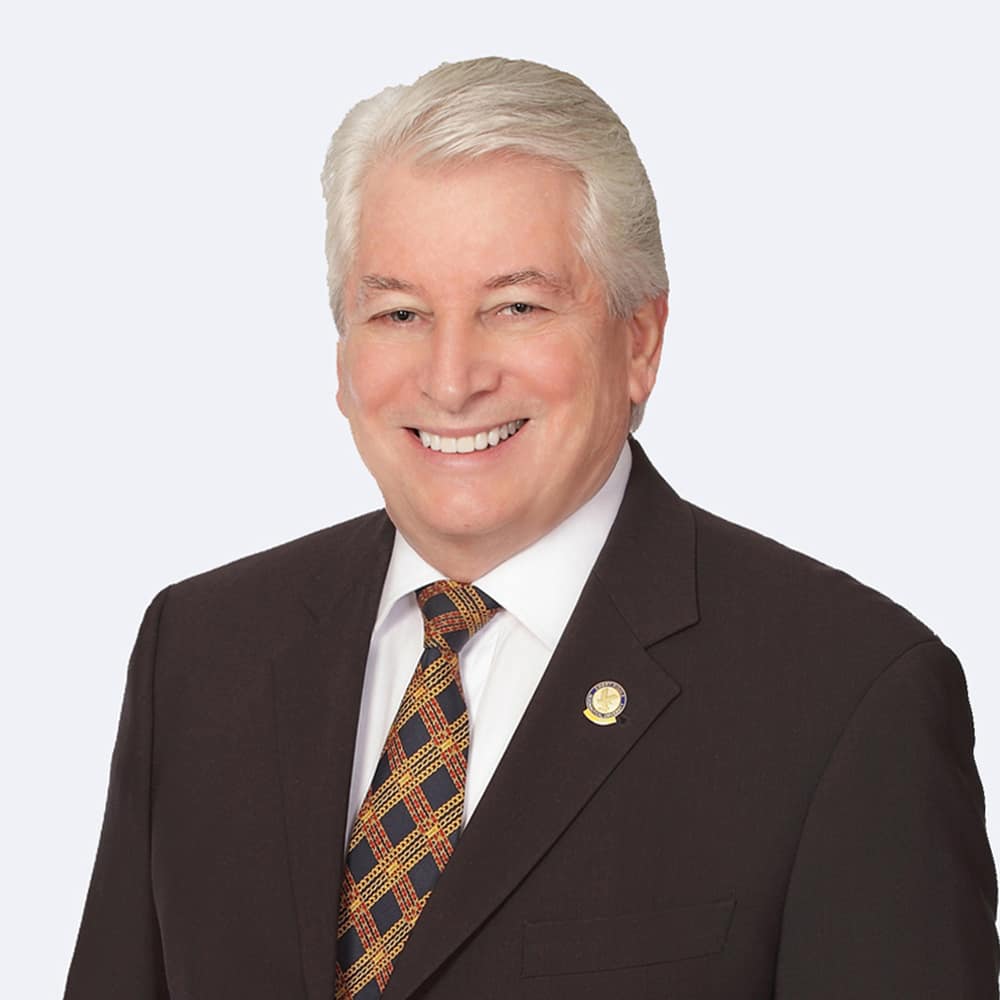 Jon Slangerup ('81, WW)
Member since March 2014
Business Partnership, Development, and Investment Committees
Career Highlights
Jon Slangerup's executive leadership experience spans more than three decades as a corporate director, president and CEO of both public and private companies ranging from the Port of Long Beach to a billion-dollar subsidiary of FedEx Corp. Through his expertise in aviation, logistics and environmental technologies, Slangerup has built businesses throughout North America, Europe and Asia that serve more than 100 countries and he has completed more than a dozen corporate mergers and acquisitions.
Ambition Meets Access
While working full-time for the U.S. Navy as a civilian anti-submarine weapons systems program manager, Slangerup was raising two children, with a third on the way, and working toward a degree that would change his career trajectory.
Through coworkers, he discovered Embry-Riddle Aeronautical University, which had begun to open Worldwide locations at military bases and civilian sites in the 1970s. Long days spent working on aircraft systems at military bases and, subsequently, for two airlines, were followed by long nights in the "classroom" at San Francisco International Airport. "I was determined to be something more than a mechanic since that seemed to be where I was heading," said Slangerup.
Embry-Riddle was a perfect fit. "If you were in the aviation game, working full time and had the ambition to get a four-year degree, there weren't many education options. Other schools had convenient classes, but not in aviation. And I was totally focused on a career in commercial aviation," he said.
In 1981, Slangerup graduated cum laude from Embry-Riddle with a bachelor's degree in Professional Aeronautics and began a successful career path in corporate aviation and supply chain management. "It took six years to get a four-year degree, but it was well worth it," he said. "That degree has been the foundation for much of what I have accomplished in my career. It's a brilliant program for people in similar circumstances."
He later earned a Master of Business Administration degree from Kennedy-Western University.
A Global Logistics Leader
Slangerup began a 20-year career with Fedex Corp., where he ultimately became President of FedEx Canada. In his seven-year presidency, his team increased annual sales from $50 million to $1 billion, establishing FedEx as Canada's leading international express logistics enterprise. Following his career with FedEx, he went on to accrue several more years of executive leadership experience, primarily in aviation and logistics.
He went on to become CEO of the Port of Long Beach, a primary U.S. gateway for trans-Pacific trade and a major economic engine for Southern California. From this position, he joined Mxi Technologies as chairman and CEO. Mxi was the world's leading provider of maintenance management software for the commercial aviation and defense industries. The company was acquired by IFS in 2017.
Most recently, he was the chairman and CEO of American Global Logistics, a leading high-tech logistics and supply chain solutions company. In 2018, the Atlanta Business Chronicle named him one of Atlanta's most admired CEOs. Since leaving AGL, he has published and lectured extensively on optimizing supply chains, digital transformation and blockchain.
In 2020, he was appointed to the Board of Directors of Fenix Marine Services LTD, which operates one of the largest container terminals in the Port of Los Angeles. In 2021, he joined the Board of Directors of Hawthorne Global Aviation, a fixed-based operator (FBO) acquisition and operating company.
Watching Embry-Riddle's Progress
Although he attended a Worldwide Campus location, Slangerup became familiar with Embry-Riddle's residential campus in Daytona Beach, Florida, in the 1980s shortly after reading a Time magazine article calling the university the "Harvard of the Sky." His visit revealed a small campus adjacent to Daytona Beach International Airport, supported by classrooms and offices in Quonset huts, military-style prefabricated buildings.
"It was very modest," he said with a laugh. "I remember what it was and I marvel at what it is today. Over the course of the years it's been stunning to see the university's progress."
Slangerup's shift toward deeper involvement with the university began many years after his visit to the Daytona Beach Campus, when his mention of Embry-Riddle in his LinkedIn profile was pointed out to Dr. John Watret, the Worldwide Campus chancellor.
"Dr. Watret encouraged me to become a trustee because he valued the perspective I'd gained as a Worldwide graduate with diverse career accomplishments," he said.
Giving Back to a 'Life Saver'
Slangerup was elected to the Board of Trustees in March 2014 and serves on multiple committees in addition to the university's Research Park Advisory Board.
"Being a member of the Board of Trustees is just a tremendous honor to me," he said. "My colleagues around the table are amazing, smart, generous and they care deeply about Embry-Riddle because many of them are alumni."
Looking to the future, Slangerup said one of the university's biggest challenges is to raise its endowment to the level typical of major universities. "The university's administration is making this a priority because the financial burden, at this point, is on the students. We have to be aware that their careers are largely fueled by their education and experience at Embry-Riddle," he said. "All of us need to contribute more."
For Slangerup, Embry-Riddle was a "lifesaver" that led to incredible career success. "That's why I'll always be grateful to the university," he said. "That's why I give back in every way I can, to continually strengthen Embry-Riddle and make it the best possible experience for our talented and dedicated students."