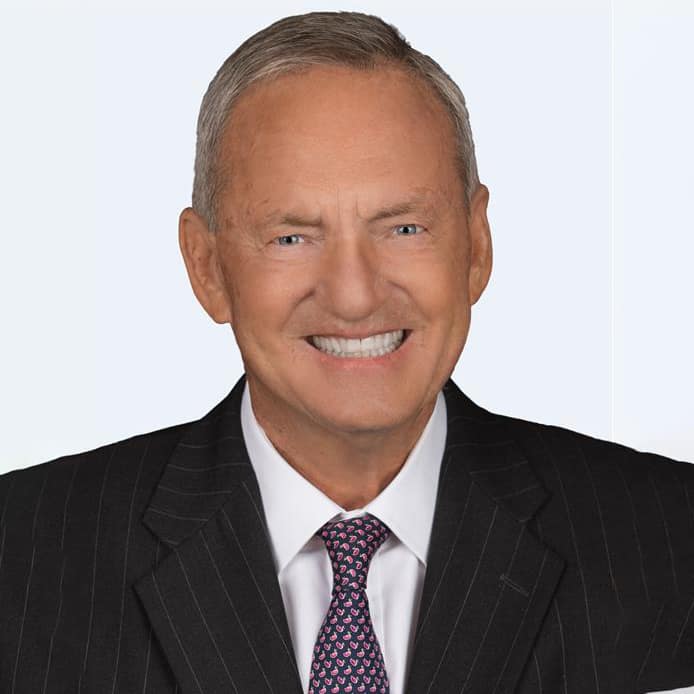 Joseph Martin (HonDoc '18; '74, DB)
Member since 2005
Treasurer, Board of Trustees
Chair, Finance Committee
Vice-Chair, Investment Committee
Audit, Committee on Trustees,

Development,

Executive, and Facilities & Capital Planning Committees
Career Highlights
Joseph "Joe" Martin is the retired Co-Chairman and Vice Chairman of the Board of Directors of Fairchild Semiconductor Corp., a global supplier of power semiconductors. He was previously Executive Vice President and Chief Financial Officer at Fairchild. In recognition of his leadership in guiding the spinoff of Fairchild from National Semiconductor, CFO Magazine named him CFO of the Year in 2002.
Before joining Fairchild, Martin was Vice President of Finance, Worldwide Operations, at National Semiconductor. He was responsible for corporate financial planning and all operating divisions and manufacturing sites. He was also Founder, Senior Vice President, and Chief Financial Officer of VTC Inc.
Currently, Martin is on the boards of three publicly traded companies. He serves as Chairman of the Board at Brooks Automation Inc. (provider of automation and cryogenic solutions for semiconductor manufacturing and life sciences), Collectors Universe Inc. (an authentication services company), Bionik Laboratories Corp. (a robotics in-motion solution company); as well as Allegro Microsystems, LLC, a privately-held semiconductor company.
He has also held board positions with ChipPac Inc. (a contract semiconductor assembly and test company), SynQor (a manufacturer of power solutions) and Soitec (a manufacturer of silicon-on-insulator wafers).
Martin earned a Bachelor of Science degree in Aeronautics in 1974 from Embry-Riddle and an MBA from the University of Maine in 1976.
A Talent for Transformation
Martin spent his career restructuring corporations so they could flourish again. However, one of the most gratifying transformations came after his career at Fairchild when he returned to his first love, aviation.
"I have been on the inside, able to witness this incredible change in Embry-Riddle in almost 15 years," said Martin, who joined Embry-Riddle's Board of Trustees in 2005. "It's epic what has happened."
He has contributed to a vibrant period in Embry-Riddle's history. The university has invested millions in improving and building new facilities and opened the research park adjacent to the Daytona Beach Campus. "I'm blessed that I can sit here and see in earnest the transformation of the university, in tandem with the high quality of the faculty, students and programs," he said. "While I did not lead it or have the vision to do it, I played a small part in it and I'm very proud to have played that part."
The businessman and father of five grown children admits his reconnection with Embry-Riddle was unexpected. For 35 years after graduating from Embry-Riddle's Daytona Beach Campus in 1974 with a Bachelor of Science degree in Aeronautics, he had virtually no connection with his alma mater. University George Ebbs reached out to him in 2001 with an invitation to serve on the President's Council, which he did from 2002 until 2005.
He joined the Board of Trustees to apply his business background and experience to help move the university forward. "It's turned out to draw me in a whole lot more than I ever anticipated," he said. "It just seems to feed some sort of commitment – a desire to do better. Being on the Board is the only job I've had in my life where I have to pay to be here rather than they pay me. And I feel good about that."
Service and Career Success
One of seven children, Martin grew up in Philadelphia, Pennsylvania, and joined the U.S. Army at age 19. He became a helicopter pilot and held the rank of captain, serving two tours of duty in Vietnam. His military honors include the Distinguished Flying Cross, the Purple Heart, two Bronze Stars, 22 Air Medals and the Vietnamese Cross of Gallantry.
At Embry-Riddle, following his Army service, he was a member of the student senate, president of the senior class, president of Alpha Eta Rho fraternity and was the student graduation speaker. He went on to serve as a keynote at Daytona Beach Campus graduations in 2003 and 2018. The university recognized his career achievement and contributions with an honorary doctorate in 2018.
Upon graduation, aviation jobs were difficult to find. "I felt cheated that I wasn't able to pursue the career in aviation that I had envisioned," Martin remembers. "But things seemed to work out anyway." Over the years, he rose to senior executive status at National Semiconductor Corp. and Fairchild Semiconductor Corp.
Personal Investment
Financially, Martin has generously supported a range of Embry-Riddle needs, from athletics programs to scholarships. He is reluctant to take credit for the university's progress. "I'm proud of being part of the success of this university, but I have no individual accomplishment," Martin said. "I'm fortunate to be part of a team with incredible leaders who are able and committed to help this wonderful university."
Martin is especially proud of the university's consistent high rankings by U.S. News & World Report. This recognition for high performance extends to both residential campuses and Embry-Riddle Worldwide, which offers the top online bachelor's degree in the country.
"Those rankings get people's attention," he said. He often refers to these accolades when introducing Embry-Riddle to people unfamiliar with the scope and quality of the university's undergraduate and graduate programs.
As the university evolves to meet the needs of the industries it serves, Martin encourages Embry-Riddle to continue to invest in research, faculty and additional doctoral programs to solidify its reputation. "As we continue to enhance these areas, there will be no second choice for prospective students and professionals in the industry. Embry-Riddle will be known for one-stop shopping in education and training at all levels."