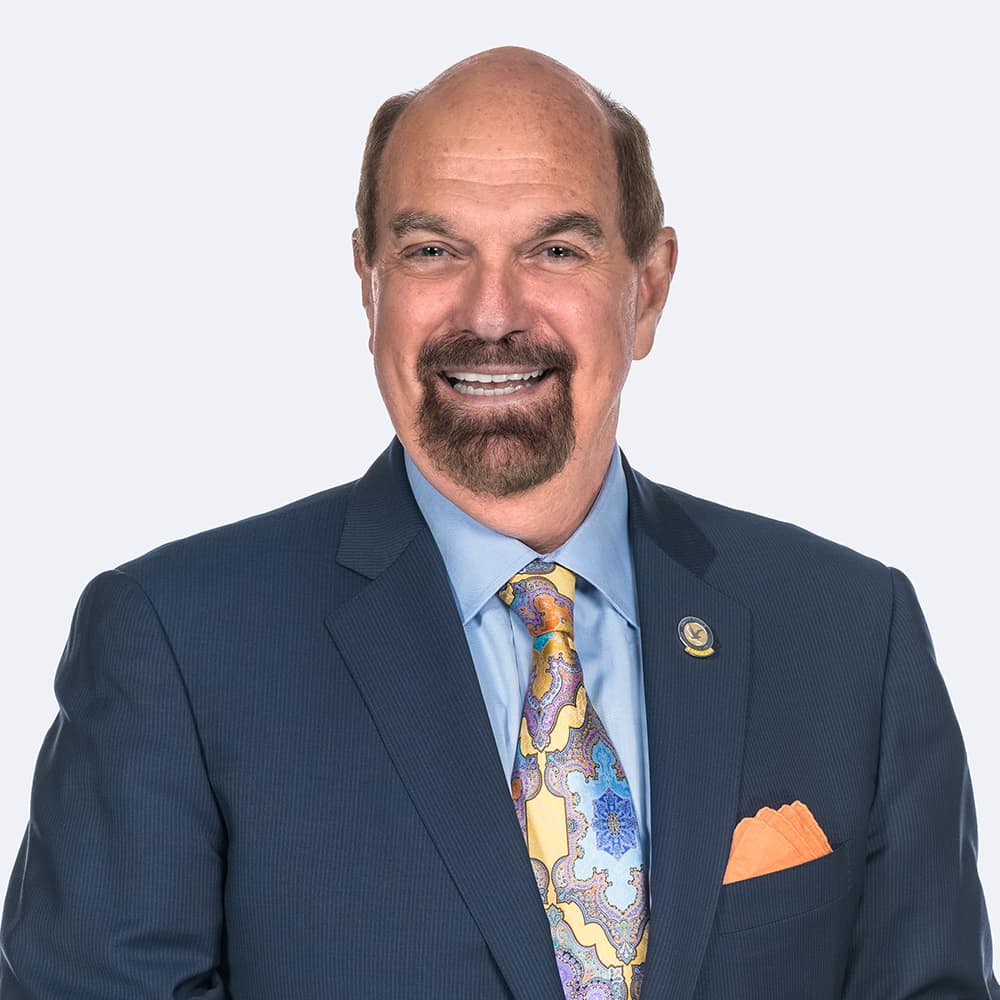 Ken Dufour ('85, '89, WW)
Member since 1998
Chair, Student Life Committee
Development and Flight Safety & Education Committees
Career Highlights
Ken Dufour's portfolio includes a wealth of avionics experience and knowledge pertaining to various flight deck systems in numerous aircraft, including corporate, air transport, regional airline, and military applications. Dufour's avionics experience includes conceptual and systems design, flight operations, Federal Aviation Administration certification, and marketing/sales of these systems. These systems include Inertial, Omega, GPS Long-Range Navigation System, Reactive and Forward Looking Windshear, TCAS I & II, CNI, ACARS, and SatCom, as well as Flight Management Systems.
Dufour has been involved in several business expansions and corporate re-engineering programs, and has a leadership record of exceptional performance results. His contribution to these programs has been in the development and program management of key corporate initiatives, including market analysis and forecast, new product introduction, product-line expansion, budgeting, staffing, and business development programs. He is the owner of Aviation Management Consulting Inc., whose latest ventures are UAS Solutions and Value$, a drone-appraisal company, and Aircraft Engine Protection Corp.
He has been recognized for excellence in business development, customer growth, sales achievement, and customer support throughout his career.
Dufour previously served on the Board of Directors of the National Aircraft Finance Association and is now an active member of that organization.
An alumnus of Embry-Riddle, Dufour earned a Bachelor of Science in Professional Aeronautics in 1985 and a Master in Aviation Management in 1989.
Hatching a Plan
It was a twist of fate that brought Louisiana native Dufour to Embry-Riddle's back door in the early 1970s. At the height of the Vietnam War in 1969, Dufour, a student at Northeast Louisiana State University, and two of his cousins wanted to serve their country but didn't like the idea of ground combat.
The three hatched a plan to enlist in the U.S. Air Force and become air traffic controllers (ATC). It worked, but not for Dufour. While his cousins received ATC billets, Dufour was trained as a paramedic and assigned to the hospital at MacDill Air Force Base, near Tampa, Florida.
"I was in the Air Force for three-and-a-half years in Tampa, in the middle of Vietnam. What was good is that it brought me to Tampa, and from Tampa I came to Daytona to finish my degree at Embry-Riddle," he said.
Recent Memories
Today, the Daytona Beach Campus is nearly unrecognizable compared to what it was like when Dufour attended classes. There were very few buildings at the time and trailers were used for administration, he said, so his fondest memories of Embry-Riddle aren't from his days as a student, but of his last 18 years as the longest currently seated member of the Board of Trustees. The recently constructed buildings and those coming into shape are developments that he's proud to have been a part of throughout his career, he said. "Those are my favorite memories of Embry-Riddle. That and what we're trying to do for the future."
In 1998, after a term as an alumnus-at-large member of the Board, Dufour was elected as a general member and asked by then-president Dr. George H. Ebbs to chair the Student Life Committee, which Dufour continues to lead to this day. And he takes this role seriously: "We're here to change students' lives," said Dufour.
The students are the lifeblood of the university, Dufour said, and are his inspiration for volunteering to serve on the Board. "The real bonus for me is to see young men and women receive their education, develop in their careers, go into the aerospace industry and other offshoots of the industry, and become leaders around the globe," he said.
In 2016, Dufour experienced one of those "bonuses" when an acquaintance updated him about her son, a young man who wanted to fly. Dufour talked to him about opportunities at Embry-Riddle and set him up with a tour and information, he said. "Now here we are, five years later, and his mom is showing me a picture of her son in his officer's uniform in front of an airplane simulator because he just got a job with a regional carrier and she said, 'He is the happiest man on the planet and I'm the happiest mom.'"
But it's not thanks to him, Dufour said. "That's what we do here at Embry-Riddle. We produce graduates made for success."
Bringing the Worldwide Campus to Rockford, Illinois
Embry-Riddle's Worldwide Campus is also a focal point for Dufour. "I was the impetus for bringing Worldwide to Rockford, Illinois," he said.
Today, Rockford touts an expanded Worldwide Campus and boasts an Embry-Riddle aerospace academy at one of its high schools. "I'm proud of that," said Dufour, a longtime Rockford resident. His interest in the Worldwide Campus isn't unfounded. It was at Embry-Riddle's Extended Campus, the predecessor to today's Worldwide Campus, that Dufour finished his degree.
Back at the Daytona Beach Campus in the 1970s, the careful balance between work and school finally tipped. "I ran out of everything: money, altitude," he said. "I was a flight instructor making $5 to $6 an hour."
He took a position at a Piper aircraft distributor in Sarasota, Florida, and withdrew from Embry-Riddle with just about a dozen credit hours left to finish. About 10 years later, Dufour completed his bachelor's degree in Professional Aeronautics via correspondence courses. Later he earned a master's degree in Aviation Management at the Worldwide Campus in Fort Lauderdale, Florida.
"I had a new job, a new wife, a new baby, and a new degree," he said. In 2013, that baby, Kristina, now 28, completed an M.S. degree in Management from Embry-Riddle's Worldwide Campus in Rockford. And Dufour was there to hand her the diploma. He also conferred the degrees at the commencement ceremony held in Daytona Beach.
Appraisal Niche
Dufour has led a varied career, holding positions such as regional vice president, area manager, and regional marketing manager at Gulfstream Aerospace, Honeywell, BF Goodrich Aerospace, AlliedSignal, and Litton Aero Products.
In 1992, he opened his own business, Aviation Management Consulting Inc., and developed a niche: aircraft appraisals. Located in Rockford, the company provides management, marketing/sales, and technical skills to the aerospace marketplace. Dufour is an Accredited Senior Appraiser for the American Society of Appraisers.
Aviation Management Consulting recently launched a new division called UAS Solutions and Value$. A response to the increasing needs of the booming $90 billion commercial drone market, the new venture specializes in aviation valuation and appraisals. Dufour further has launched Aircraft Engine Protection Corporation, an engine maintenance program that offers extended maintenance and warranty protection.
While he said he enjoys consulting, his passion is Embry-Riddle. "It's part of my family and it always has been, ever since I got out of the Air Force. And, as Tom Cruise's character is told in the movie Top Gun, 'You never ever leave your wingman.' Albeit that's Hollywoodish, it's true. Embry-Riddle's been my wingman and I'm Embry-Riddle's wingman."