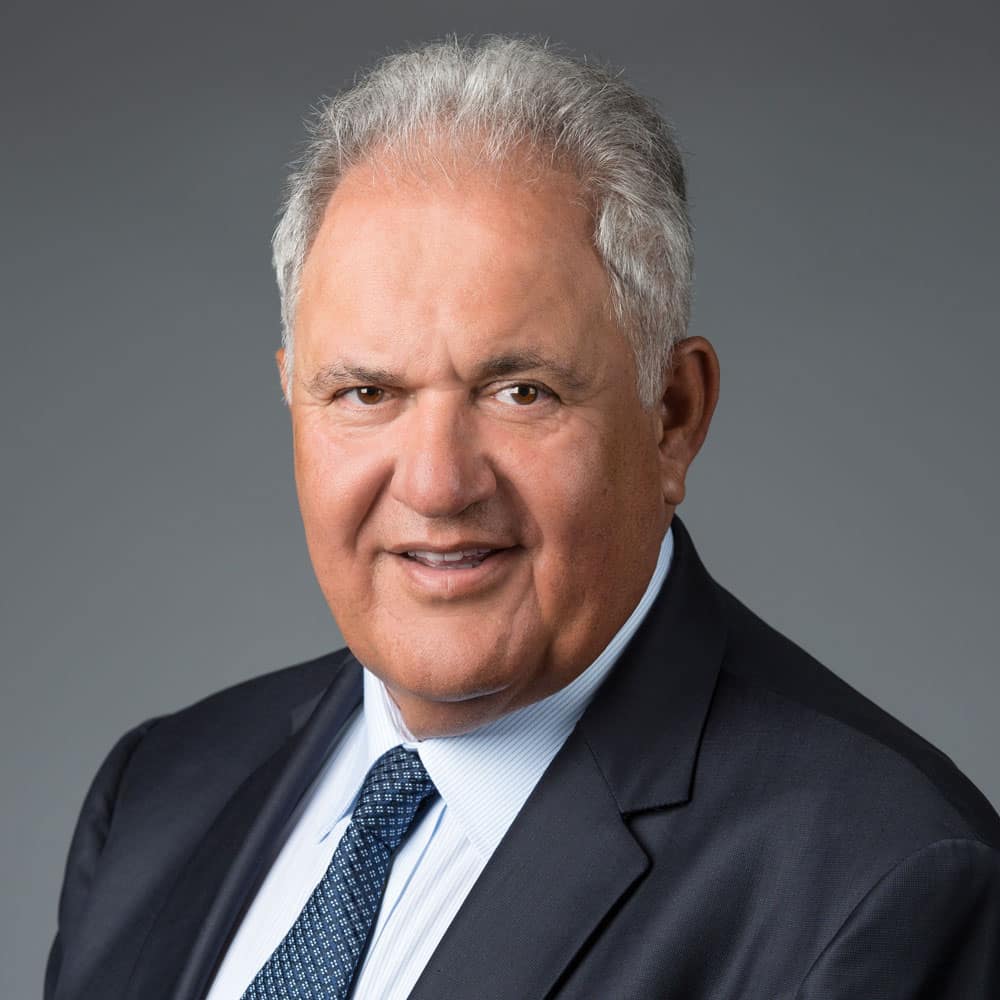 Mori Hosseini (HonDoc '13; '78, '79, '82, DB)
Member since 1999
Chair, Board of Trustees since 2014
Chair, Committee on Trustees
Chair, Executive Committee
Chair, Facilities & Capital Planning Committee
Career Highlights
Mori Hosseini is the Chairman and CEO of ICI Homes, one of Florida's largest residential homebuilder/developers. Born in Iran, Mr. Hosseini was educated in London, England, where he received a degree in Aeronautical Engineering from Chelsea College of Aeronautical Engineering. He then attended Embry-Riddle Aeronautical University where he received both a Bachelor of Science Degree in Aeronautical Studies and Master of Business Administration.
Mr. Hosseini founded ICI Homes in 1980. Consistently ranked by Builder Magazine among the nation's Top 100 homebuilders, ICI Homes has built thousands of homes and created some of the largest master development communities in Florida, markets including the counties of Volusia (corporate office headquarters), Flagler, St. Johns, Duval, Nassau, Seminole, Orange, Osceola, and Brevard. In addition to master development and homebuilding operations, Hosseini is involved in many other enterprises throughout Florida including a lumber company and a title insurance company.
Hosseini, his wife, and three daughters are longtime residents of Ormond Beach, Florida.
More About the Chairman
Hosseini serves on several corporate, civic, and public boards and associations. His affiliations include the following:
Chairman of the Board of Trustees – University of Florida
Chairman of the Board of Trustees – Embry-Riddle Aeronautical University
Board Member – Enterprise Florida, Inc.
Board Member – Space Florida
Chairman of the Board – Allstar Building Materials
Chairman of the Board – Southern Title Family of Companies
Former Chairman and Board Member – Board of Governors, State University System of Florida
Former Chairman and Board Member – Halifax Health Medical Center
Former Member – Board of Directors – International Speedway Corporation
Former Chairman and Board Member – Pinnacle Bank
Former Member – Board of Advisors – Hearthstone Path of Growth – CalPERS
Former Member – The Florida Council of 100, Inc.
Recognized for his countless professional, industry, civic, and personal contributions to the community and the nation, many honors have been bestowed on Hosseini, including the following:
2020 University of Florida Golden Gators Transformational Leadership Award
2019, 2014, 2006 and 1998 Builder of the Year, ICI Homes – Homebuilders Associations
2018 Opening and Dedication: "The Mori Hosseini Student Union Building" – Embry-Riddle Aeronautical University
2018 University of Florida Kelley A. Bergstrom Real Estate Center's Hall of Fame Award
2017 Florida Association of Colleges and Universities (FAC&U) Distinguished Service Award
2016 Outstanding Philanthropist – Volusia/Flagler Chapter of the Association of Fundraising Professionals
2015 Herbert M. Davidson Memorial Award for Outstanding Community Service Community Foundation of Volusia & Flagler
2013 Doctorate of Humane Letters, Honorary Degree from Embry-Riddle Aeronautical University
2011 BUILDER Magazine's "Hearthstone Humanitarian Award"
2010 Glenn and Connie Ritchey Community Service Award – Council on Aging
2010 Volusia County Council, Volusia County School Board, City of Daytona Beach, City of Ormond Beach, and City of Port Orange, Florida, Proclamation: "Mori & Forough Hosseini Day"
2009 Spirit of Hope Award – Habitat for Humanity
2007 Home Builders Association – Inducted into the Hall of Fame
2007 Opening and Dedication: "The Mori Hosseini Center"– Daytona State College
2006 Ellis Island Medal of Honor − Entered into the United States Congressional Record
2006 Lou Fuchs Award − Daytona Beach/Halifax Area Chamber of Commerce
2002 Dedication: "ICI Center"– Embry-Riddle Aeronautical University
2002 Declaration: June 6, 2002 as "Mori Hosseini Day" – Volusia County Council
2001 Community Leadership Award – City of Daytona Beach
2001 Salvation Army Leadership Award
1998, 1999, 2000, 2006 Recognition Award – Habitat for Humanity
1997 Enterprise Award – Daytona Beach/Halifax Area Chamber of Commerce
1994 Entrepreneur of the Year, Construction and Real Estate Industry – Ernst & Young/Merrill Lynch Florida
Stepping up to the Challenges
When it comes to chairmanships, Hosseini has stepped up to that role many times, never shying away from what it takes to bring about positive change or improvement. On Jan. 1, 2014, the founding Chairman and Chief Executive Officer of ICI Homes made Embry-Riddle history, becoming the first alumnus to chair the university's Board of Trustees. On that same day, he also became Chairman of the Board of Governors for the State University System of Florida, which provides oversight and direction for 12 Florida public universities.
Hosseini's rise to the top in matters of business and higher education has been no accident. His commitment to getting results and supporting the things he cares about most make him a top target for leadership opportunities throughout the state of Florida and beyond.
"Whatever I decide to do, I always look at what the end goal is, whether it's in fundraising, business, anything," Hosseini said.
Opportunity Knocks
When he came to the United States in 1976, after completing a bachelor's degree in Aeronautical Engineering at London's Chelsea College, his goal was to continue his education and pursue a career in the aviation/aerospace industry. He went after it with his typical tenacity, completing three degrees at Embry-Riddle's Daytona Beach Campus, but when opportunity came knocking in the real estate market, Hosseini's keen business instincts kicked in and led him along another path. Instead of becoming an airline executive, he founded one of Florida's largest residential development and home-building businesses.
"I kept thinking today, tomorrow, the next day, I'm going to go back into aviation, but by the time I got my master's degree in 1982, I was entrenched," Hosseini said.
Even though Hosseini's real-estate success kept him from pursuing his aviation career, he never let that stop him from continuing to support the aviation industry that he has always been so passionate about.
Joining the Embry-Riddle Board of Trustees in 1999, he made it a priority to plan for the university's future. "My biggest accomplishment has been the creation of a master plan for the university that, for the next 50 years, will set us in very good shape for growth. We're thinking of 50 years from now, not today," he said.
Alumni Understanding
For Hosseini, serving on the Board is a matter of loyalty and sound business. "As an alumnus, Embry-Riddle is near and dear to my heart. But it's also a tremendous asset to our community, so I've had a stake in it throughout my adult life."
He added, "I think alumni have a keen understanding of the core values of the university. The more they're involved, the more they give back to the university that taught them. The way I see it, the people who came before me, helped me get here; and the people before them, helped them. And I need to help the future generation."
Hosseini not only has given of his time, but also has generously supported the university financially. His contributions of time, expertise, and personal resources have secured more than $40 million in state funding to support ongoing programming and multiple infrastructure projects. His donations largely contributed to Embry-Riddle's ICI Center athletics fieldhouse, which is named in honor of his company.
In 2016 the Board of Trustees also voted to honor Hosseini with the naming of the campus' new student union building, which is set to open in 2018.
As one of the top five donors in university history, Hosseini feels it is a great honor to be able to help transform and support his alma mater.
In 2018, the University dedicated the Mori Hosseini Student Union on the Daytona Beach Campus. Mr. Hosseini was a passionate champion for the creation of this iconic building that now serves as a transformational student center.
"To me, philanthropy comes easy," Hosseini said. "Giving in and of itself is a gift, whether it's your time or your financial support. I have been able to transfer much of my success into the capacity to give back and this is most fulfilling and extremely important to me – to witness results that make a difference."